For many Americans, withdrawing from high school prior to graduation leads to a number of closed doors. Without a high school degree, most Americans have traditionally been unable to pursue higher forms of education, as well as obtain certain jobs. The bottom line is, in order to make a decent living, a high school diploma or equivalency, as well as some college coursework is necessary.
Fortunately, community colleges across the country are striving to provide more programs to cater to the needs of non-high school graduates. Upon earning one's
GED
, students can enroll in community college to pursue a variety of career and college degree opportunities. In some cases, both a GED and a college degree can be sought simultaneously.
The Short Path without College
According to the
National Center for Education Statistics
, individuals who have not earned their high school degree stand to earn far less than individuals who have earned their high school diploma,
associate's
degree,
bachelor's
degree, or other advanced degrees or trainings. In fact, statistics show that high school graduates make, on average, over $7,000 more per year than workers who did not complete high school. Additionally, workers who have an associate's degree make about $7,000 more per year than those with a high school diploma. With reduced wages, pay, and benefits, individuals who do not graduate from high school are at a considerable economic and social disadvantage.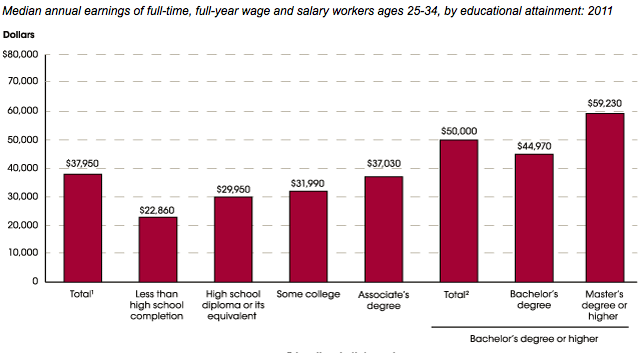 Image source: National Center for Education Statistics
Furthermore, even when a high school dropout earns his or her GED, the