For many Americans, withdrawing from high school prior to graduation leads to a number of closed doors. Without a high school degree, most Americans have traditionally been unable to pursue higher forms of education, as well as obtain certain jobs. The bottom line is, in order to make a decent living, a high school diploma or equivalency, as well as some college coursework is necessary.
Fortunately, community colleges across the country are striving to provide more programs to cater to the needs of non-high school graduates. Upon earning one's GED, students can enroll in community college to pursue a variety of career and college degree opportunities. In some cases, both a GED and a college degree can be sought simultaneously.
The Short Path without College
According to the National Center for Education Statistics, individuals who have not earned their high school degree stand to earn far less than individuals who have earned their high school diploma, associate's degree, bachelor's degree, or other advanced degrees or trainings. In fact, statistics show that high school graduates make, on average, over $7,000 more per year than workers who did not complete high school. Additionally, workers who have an associate's degree make about $7,000 more per year than those with a high school diploma. With reduced wages, pay, and benefits, individuals who do not graduate from high school are at a considerable economic and social disadvantage.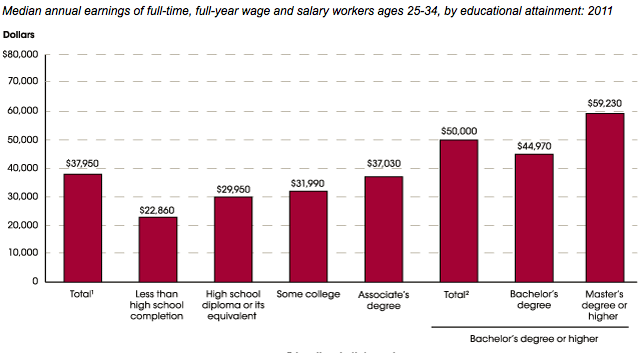 Image source: National Center for Education Statistics
Furthermore, even when a high school dropout earns his or her GED, the struggle to find a good paying job still exists as many jobs today – even entry level jobs – require at least some college coursework, if not a completed associate's degree. As a result, many GED earners and educational leaders assert that community colleges must boost their programs to more substantially support students with a GED. In so doing, community colleges ensure two things. First, they open otherwise closed doors to educational opportunities for students who did not complete high school. Secondly, they increase the number of students obtaining necessary and relevant training to enter today's workforce. As a result, more people have good paying jobs. With this access to higher education, students attending community college programs with their GED will be able to pursue career pathways that are substantially more sustainable, profitable, and potentially more rewarding.
How to Earn Your GED and College Degree – Simultaneously
If you're ready to begin your path to higher education, start by first completing your GED; however, if you have not yet completed your GED, have no fear! There are plenty of community colleges that provide supportive programs for students that are non-high school graduates who have not yet completed their GED.
For example, Rockland Community College (RCC), located in Suffern, New York, allows students who have not yet completed high school to enroll in community college classes in order to earn both their GED and college degree simultaneously. As RCC explains, students who are interested in earning their GED and college degree are admitted through a special admissions procedure: upon being accepted, students will begin their 24 credits to earning their GED. Additional stipulations apply for a student to be admitted, including requirements such as:
Students must attend a GED workshop at RCC before applying.
Students must not be high school or have already completed their high school equivalency.
Students must be at least 19 years of age and must be a current resident of New York.
Students must take the English and Math Assessment tests, and must earn scores that meet or exceed the "Ability to Benefit" scores (determined by the U.S. Department of Education).
In addition to programs available at RCC, students attending Columbia-Greene Community College (CGCC), located in Hudson, New York, are also provided with unique GED and degree opportunities.
Typically, students who have completed their high school requirements and who have earned a diploma are able to apply for and attend classes; however, students without a diploma or GED can apply and potentially attend CGCC if they meet the following requirements:
Students must be 17 years old.
The high school class in which the applicant entered 9th grade must have already graduated. For example, if a student would have graduated with the class of 2013, that class would have to have already graduated before a student who dropped out of high school can apply.
Students must meet with an appointed admissions counselor to develop a specific curriculum with a defined educational plan.
Official documentation must be provided to inform CGCC of the applicant's withdrawal from high school.
Students must take a placement exam, which aligns with the admissions policies established by CGCC and New York State's Education Department.
Students who have not yet earned their GED or high school diploma must earn their GED prior to receiving their CGCC college diploma.
While these examples are for programs at two specific community colleges, the requirements and procedures for obtaining your GED are fairly comparable at schools throughout the nation. Although there is not currently a website that provides the names of schools that offer these programs, if you're interested in obtaining your GED or pursuing a dual program to get your GED and associate's degree at the same time, contact community colleges in your area and ask if such a programs are offered. School websites generally have detailed information about GED programs, and if not, simply call the school to get more information.
How to Earn Your GED
If you're interested in finding out more about local community college opportunities but you have not yet earned your GED, you can begin the primary enrollment and application steps today.
Take your first step on your pathway higher education by simply enrolling in one of your nearby community college GED courses or programs. While each state and community college has its own requirements, most students can complete their GED in just two semesters. As most GED programs involve the completion of approximately 24 credit hours, students who are enrolled for the minimum full time requirement (12 credit hours each semester) should be able to complete their GED while simultaneously (or soon thereafter) taking community college courses. Programs are flexible, so students can enroll in more credits per semester or fewer credits depending on their needs.
To find out about programs in your area, check out the websites of a few of your local colleges. Just search the Internet for "GED programs" in the city in which you live. But be sure the program you enroll in is offered at an accredited institution. If the schools seem to meet your needs, contact an admissions officer and begin your new educational and career plans today. Remember, the hard work, time and effort will pay dividends because of the better job opportunities and increased wages you can get with a completed GED program and a college degree.
Questions? Contact us on Twitter. @communitycollegereview