Alternative Automobiles: New Training Programs at Community College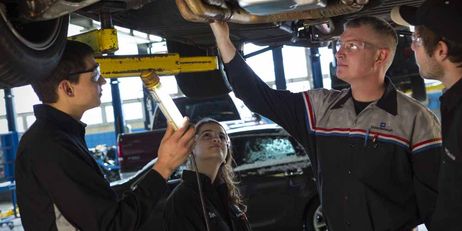 Learn about the demand for technicians of alternative fuel automobiles and its future career potential. Start your career as an alternative fuel vehicle technician at your local community college.
The past decade has seen an explosion of hybrid cars powered by alternative fuels, rather than traditional gasoline. What once seemed a science fiction dream – powering cars with energy other than petroleum – is quickly becoming a reality. However, alternative fuels don't stop with hybrid engines; experts are working on creating vehicles that can be powered by compressed natural gas, biodiesel, ethanol, and propane.
As the landscape of the
American auto industry
shifts to include more alternative fuel vehicles, there is an emerging market for auto technicians who are trained to service and repair these next generation cars. For those looking for a
career in the auto industry
with definite growth potential, a new training program for alternative fuel technicians available at community colleges could be an excellent investment.
Alternative Fuels Training Centers
West Virginia University started the National Alternative Fuels Training Consortium (NAFTC) in 1992 to address the lack of technicians who were trained to work with the then-new Alternative Fuel Vehicles. In 1995, the NAFTC added six technical training centers to the existing West Virginia University center. Since then, the program has grown to include 42 members: 41 national training centers and 1 associate training center.
Community Colleges Offering Alternative Fuels Training to Students
Alabama
In Alabama, Lawson State Community College's Bessemer Campus is using a $120,000 state grant to launch the state's first compressed natural gas technician training program. The
Birmingham Business Journal
reports that compressed natural gas, or CNG, is currently used to fuel some of Birmingham's busses, and it is touted as being a "cleaner and cheaper alternative to gasoline for the consumer car market." The CNG equivalent of one gallon of gas cost $1.37 as of August 2009, according to the
Journal
.
North Carolina
North Carolina's
Blue Ridge Community College
also recently became a member of the National Alternative Fuels Training Consortium. The
Blue Ridge Times-News
reported that college president Dr. Molly A. Parkhill promised that over the next year, the college will "develop additional courses and programs in alternative fuels to prepare our students for
jobs
in this rapidly growing industry."
The first training opportunity begins in January 2010 with a course called Introduction to Alternative Fuel Vehicles, which is aimed at automotive technicians who wish to expand their skill set to include alternative fuel vehicles. The course will cover alternative fuels, such as compressed natural gas, propane, ethanol, and biodiesel, as well as hydrogen, electric, hybrid, and fuel cell technologies.
By the end of the course, the
Times-News
reports, students should be able to "identify alternative fuel vehicles and the different vehicle components, explain how the different alternative fuel vehicles work, understand safety concerns and make minor repairs."
Washington
Washington State's Peninsula College
voices their pride in their automotive program's new status as a National Training Center and member of the NAFTC. "When our students graduate," instructor Mike Hansen says, "they will be among a very few in the country who are prepared to work on alternative fuel vehicles, and their expertise will be of real value to local employers who are selling the vehicles."
What You Need to Succeed in the Alternative Fuel Industry
According to the
U.S. Department of Energy
, alternative fuel vehicles have special designs and need to be serviced regularly just like traditional cars. Subsequently, there is a growing need for technicians who have been properly trained to service these cars. Alternative fuel vehicle technicians, the U.S. Department of Energy notes, must "understand the differences between various fuels and fuel systems" and understand "maintenance schedules and AFVs components."
Perhaps most importantly, to succeed as an alternative fuel vehicle technician, it helps to be an independent learner, as the field will continue to experience rapid changes, and successful technicians will need to keep abreast of current developments and emerging technologies.
After 80 years and a powerful program, Grand Rapids Community College cites scheduling conflicts and compliance challenges in bringing its football tradition to an end.
A $1.25 million donation to Cape Cod Community College will greatly expand the dental hygiene program for the school. This is particularly important since it is not only the only dental hygiene program within a 50-mile radius; it is also serving the needs of the low-income and uninsured members of the community.
An investigation revealed major construction errors, immediate demolition of newly renovated buildings, and millions lost in administrative blunders in the Los Angeles Community College District. Learn about how billions lost due to poor planning and terrible mistakes in Los Angeles.