Will the Failing Auto Industry Drive Up Community College Enrollment Rates?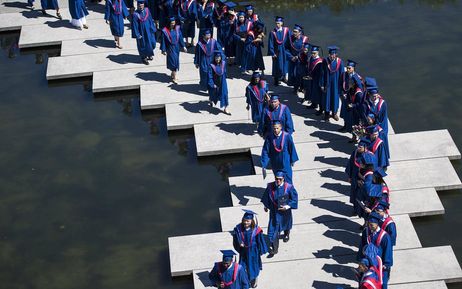 Learn about how the failure of the American auto industry, along with President Obama's education initiatives, will translate into increased enrollment in community college campuses.
While the United States has more than six million students enrolled at 1,000 community college campuses nationwide, only half a million students graduate from these institutions each year. According to President Obama, this low
graduation rate
must change in order for our country to prepare for a stronger and more fertile economy.
In specifically examining the troubling economic setbacks experienced by residents of Michigan, Obama asserts that many unemployed auto workers must actively pursue community college programs to gain new education and training for the future job openings that will arise. In light of Obama's direct visit with Michigan's current and former auto workers, many residents are wondering if the failure of their auto industry will ultimately help drive up their
community college enrollment rates
.
Michigan's Auto Industry and the Community College Impact
As
Yahoo News
reports, President Obama's mid July visit to Detroit was intended to help the city and surrounding areas face their current economic challenges with new vigor. Considering that Ford, GM, and Chrysler are all based out of Michigan, their recent financial struggles have contributed to a waterfall of job losses and salary cuts statewide.
During his visit, Obama sympathized with residents while simultaneously attempted to boost morale with his $12 billion dollar proposal. With this proposal, Obama hopes to increase the enrollment rates at community colleges, both in Michigan and across the country, to eventually create a more qualified workforce.
In looking forward to the economic perks of education, Obama reminded Michigan residents, "'(The) hard truth is that some of the jobs that have been lost in the auto industry and elsewhere won't be coming back... And that only underscores the importance of generating new businesses and industries to replace the ones we've lost, and of preparing our workers to fill the jobs they create.'" As the country's needs and requirements shift with the tides of the economy, Obama is focused on improving access to education in order to prepare workers for the unavoidable professional shifts that lie ahead.
Unfortunately, mostly due to the dwindling auto industry, leaders acknowledge that Michigan will undoubtedly struggle to rebound from the horrific effects of the recession in their area. Adding to this, the jobless rate in Michigan is projected to get worse before it begins to improve. Yet, although there are struggles ahead, Obama also reminded Michigan residents that the government bailout of the big three auto companies helped to save the local economy from a much more disastrous financial fate.
Community Colleges and the 10 Year Plan
As education is a main component of
Obama's economic recovery initiative
, the President has outlined a 10 year plan that will help turn around the nation's economy. Using the pillar of education, Obama hopes to increase the current college graduation rate by 5 million people over the course of the decade. If this goal is achieved, the country will experience a doubling of its current graduate numbers.
Supporting this agenda, the President's Council of Economic Advisers reiterates that with the evolution of new jobs created over the course of time, the future job market will demand well-trained and highly skilled workers. As the Council further states, "'Occupations requiring higher educational attainment are projected to grow much faster than those with lower education requirements, with the fastest growth among occupations that require an
associate's degree
or a
post-secondary vocational award
.'" Subsequently, those with access to educational and training venues, especially through community colleges, will be prepared to obtain more secure and
higher paying jobs
.
Community Colleges Across the Country: How the Auto Industry Will Impact Your Campus
While Michigan was certainly a main state of focus during Obama's summer speeches, community college campuses across the country are anticipating a surge of enrollment rates. Essentially, to understand the nationwide impact of the auto collapse, one must foremost consider what happens to Michigan residents facing unemployment. In many cases, laid-off workers quickly move out of state, resulting in population growth in other states. As local population rates rise, college admission rates are expected to similarly rise.
Additionally, as Obama is proposing to offer further community college support plans, including free or reduced tuition for unemployed / laid-off workers, experts predict that the community college classrooms in all states should continue to fill with a rising number of students.
With serious mental health issues on the rise on college campuses nationwide, community colleges are scrambling to provide expanded mental health services to students.
We examine a new report at USA Today that shows employment rates for community college graduates have skyrocketed - and which of the fields where a community college degree is particularly helpful.
Who says college is just for the 18 - 22 year old crowd? In fact, more community colleges are recruiting students over the age of 50 - and for good reason!