Mastering Math: A Guide to Passing Your Community College Math Requirements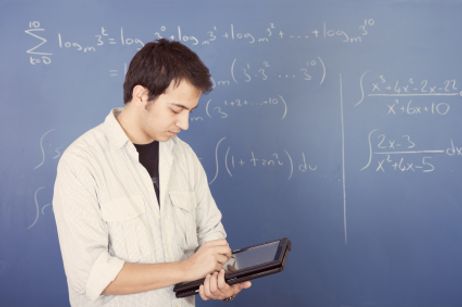 Learn about how to prepare for your community college's math placement exams, as well as excel in remedial math courses.
Increasing numbers of students are enrolling in two-year community college programs, yet only one-third of these students will
graduate with their degrees
. Naturally, there are multifaceted reasons for the high dropout rate, but some reports cite the students' struggle with math courses as playing a major role, as outlined by
WNYC
.
Most community colleges require that students take three
placement tests
prior to registering for classes. The placement tests include a basic math section, a reading comprehension section, and a
writing composition
section.
Approximately half of prospective community college students struggle with the math placement test, and thus, require at least one remedial math class. Even at community colleges, most degrees require the successful completion of several college-level math classes, and many students consistently struggle to make the grade.
Clearly, lowering the community college dropout rate hinges in part on preparing students for math success.
Math Placement Tests: How to Improve Your Score
Scoring well on the math placement test can save a lot of time, effort, and money in the long term. In most cases, remedial math classes don't count towards degree requirements, and thus, making the score on placement tests can save you tuition fees. The best way to prepare for the math placement test is to get the gray matter working again – especially if a lot of time has elapsed since your last math class.
A number of inexpensive options can help; the libraries are packed full of
textbooks
on basic algebra and geometry, and these book contains plenty of practice questions. Read through some of the sections, view the examples, and then test your understand by completing practice questions and checking your answers.
Learning, being reminded of forgotten math concepts, and simply staring math square in the face again boosts confidence, improves proficiency, and increases scores on placement tests.
Remedial Math Classes: How Community Colleges Are Promoting Success
Most community colleges boast an "open door" policy, meaning that students will not be
refused admission
on the basis of poor placement test scores. Community colleges are populated with non-traditional students, many of whom are attempting to work, study, and
raise a family
simultaneously. Furthermore, according to studies conducted at
LaGuardia Community College
, many remedial math students fail to see why algebra and calculus are relevant to daily life and readily admit to "never having been good at math" in the first place.
LaGuardia Community College
prides itself on its empathetic, understanding remedial math professors. Such professors are attuned to the fact that it takes most students a great deal of effort to get to class in the first place, and even when they do, they feel inadequate, insecure, and intimidated by the subject matter. Professors attempt to boost students' confidence, create a comfortable learning atmosphere, and revisit basic math concepts, taking painstaking care to fully explain them.
Many students at LaGuardia manage to eke out a passing grade in the remedial math course and on the subsequent COMPASS assessment – meaning that they are able to progress to the next level.
The students who do enjoy success in remedial classes attribute their newfound understanding to good teaching methods. The professors break down every problem into a series of small steps, which high school math teachers systematically fail to do.
Making The Grade: Secrets To Success
Almost no one in a remedial math class loves math. However, the students who typically get A-grades are the ones who are motivated to complete the quizzes, assignments, and practice questions.
At
Northern Virginia Community College
, not only do professors teach math concepts in a way that students understand, but they also require that students take College Success Skills, a course designed to help with note-taking, test anxiety, and proper time management. Students at NOVA learn to help themselves, practice good study habits, and embrace a can-do attitude.
Many researchers blame K-12 teachers and administrators for the high community college dropout rates. Since K-12 is a compound system, students who fail to understand math concepts taught in one specific grade fall foul to the "
snowball effect
" and are unable to grasp concepts taught in subsequent grades.
The key to math success in community colleges appears to hinge on local high schools providing proper instruction and preparation for college. Fortunately, even in cases where proper tutoring is not apparent, the motivated, diligent student still has ample opportunity to succeed in community college.
Questions? Contact us on Facebook @communitycollegereview.
We've found some of the best degree options for adults who are concerned about salary, job stability, and flexibility in earning a degree.
Living with roommates is part of an authentic college experience, but is it an option for community college students? Read on to learn about housing options in community college and to learn how to survive the year with roommates.
Some people seem to graduate high school but never really leave the academic world behind. No matter what career you pursue, there are plenty of opportunities for higher education, but are they worth it. Read on to learn about graduate degrees in nursing and whether they are worth the time, cost, and effort.