Largest Oklahoma Community Colleges
The average community college in Oklahoma has approximately 2,655 students (2022-23).
The community colleges with the largest student enrollments are listed below (where sufficient data available).
College Size Range:

109 Students
15,568 Students
Avg. College Size:

2,655 Students
Largest Oklahoma Community Colleges (2022-23)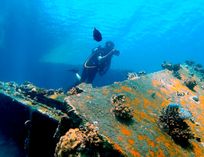 Careers: Marine Biologist
Combine underwater adventures with scientific discoveries and crystal blue waters, and you may have a dream career as a marine biologist. Learn about how you can start your marine biology training right at community college!