Careers: Culinary Arts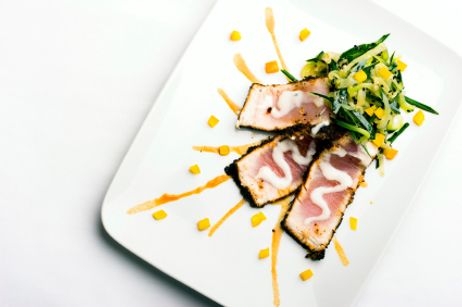 We look at an interesting new trend, as more students pursue culinary arts degrees at community colleges. Could popular television programs be fueling the interest?
Culinary arts
have become a popular degree program at community colleges across the country. What is fueling this sudden surge of foodies? Some believe it is the growing number of cooking programs on television that tend to glamorize what was once known as a relatively mundane, low-paying industry. TV has also increased interest in food enjoyment, which has further fueled the need for talented chefs – providing more opportunities for those who pursue a two-year degree in culinary arts. As the cycle continues, more college students are taking a serious look at the potential for a culinary arts degree, as well as the best schools to pursue an education in all things culinary.
Los Angeles Colleges See "Explosion" of Enrollment
The culinary arts programs at community colleges in
Los Angeles
have never been healthier. According to the
Daily Breeze
, enrollment in some programs has more than doubled within a few years. Some schools are reporting an overflow of students in classes and an even longer waitlist for students who were unable to get into the classes of their choice.
For example, the culinary arts program at
Los Angeles Mission College
has more than doubled the student population in just three years – from 250 students to 600 currently. The school has recently expanded the space for its program, adding an extensive new facility that boasts seven full kitchens equipped with some of the latest cooking technology. The 40 million dollar facility seemed to go up almost overnight, with plans for the new addition a mere blueprint less than three years ago.
This video gives us a glimpse of the culinary arts program at LA Mission College.
Los Angeles Mission College is not the only school in the area seeing exponential growth in this area.
Los Angeles Trade-Tech
is the place for the oldest culinary arts program in the United States. This school has also seen a significant increase in popularity, which some at the school attribute to the rising status of television cooking shows. Steve Kasmar, chairman of the culinary and baking program at Los Angeles Trade-Tech, told the Daily Breeze, "It brought a business and industry to light that was pretty much behind the kitchen door."
Harbor College
is the third school offering a culinary arts program in the Los Angeles Community College District. That program, which was established just five years ago, has also seen enormous growth during its short lifetime. Giovanni Delrosario, the overseer of the Harbor College program, said that he has classes meant for 25 students now packed with 60 or more. The program also has nearly 100 students currently on a waitlist.
Growth Seen in North Carolina Program
On the other side of the country,
Robeson Community College
has enjoyed similar growth with the school's culinary arts program. However, those close to the program attribute the program's success to the experienced chefs that are running it, as much as interest in culinary arts from television exposure. The
Robesonian
reports that Robeson's program has grown by nearly 50 students since Chef Lester Locklear came to the school.
Locklear, along with chefs Kendra Cummings and Gary Kowal, runs the culinary program at Robeson. The three boast an illustrious resume in the industry, with degrees from prestigious schools and a wealth of experience working in some of the best food establishments in the country. Cummings told the publication that coming in on the ground floor of the growth at Robeson has been "an amazing experience to witness."
Since the three chefs have come to the school, students in the program have become shining examples of the team's hard work and experience. Students have been placed in restaurants and bakeries throughout the area after graduation, including one student who went to work at the Pinehurst Resort. The chefs-turned-professors are also working with Johnson and Wales on a transfer agreement that would allow Robeson graduates the opportunity to pursue a four-year degree. Locklear and Cummings both graduated from Johnson and Wales.
This video describes the Culinary Arts Associate Degree program at Northcentral Technical College.
Award Brings Recognition to Virginia Community College
The Elby Awards have brought notoriety to another community college with a culinary arts program. The
Henrico Citizen
reports that a student from
J. Sergeant Reynolds Community College
was one of three finalists competing for the Culinary Student of the Year award offered at the second annual awards program. Stephanie Boehles, a student at JSRCC was recognized at the ceremony. Boehles also appeared with other students from her program on an episode of Hell's Kitchen.
Boehles will be graduating from J. Sergeant Reynolds this year, after bringing the school more than her own share of recognition. At that time, Boehles plans to obtain more practical restaurant experience while finishing her four-year degree in political science at Virginia Commonwealth University. Her long-term plans include opening her own bed and breakfast, where she could continue to delight her guests with her culinary creations.
This video describes the Culinary Arts Program at Piedmont Virginia Community College.
While many
culinary arts programs
are seeing great success around the country, professionals in the industry warn that the glamorized world of cooking shown on television may not give students a more realistic sense of what it is like to work as a chef or cook. The Daily Breeze reports that cooks across the U.S. earn an average annual salary of around $20,000, while chefs can earn $40,000 or more. Corporate chefs tend to be the highest-paid, earning between $80,000 and $100,000. However, those making high salaries work hard for their money, according to those who have worked in the industry.
"They [television programs] glorified what we do," Kasmar told the Daily Breeze. "And what we do is really not glorious. It's friggin' hard work."
Questions? Contact us on Facebook. @communitycollegereview
Community colleges are paving the way for exciting careers in robotics. Learn more about the programs that could train you to be a robotics professional.
The COVID pandemic forced airlines and all their related and ancillary businesses to shed employees. Consequently, as things ramp back up post-COIVD, there are tens of thousands of job opportunities in the sector. Your community college has the resources to prepare you and refresh your skills for new opportunities.
Want to be a teacher? Wondering what's involved and where to start? Your community college has answers to those questions and many more.