Why You Should Earn Your Teacher Certification in Community College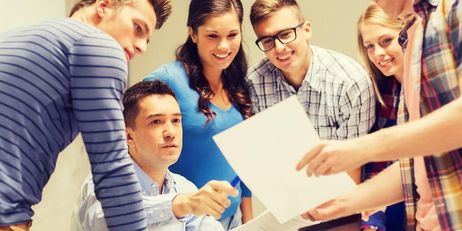 If you are planning on earning your teaching certificate, consider attending community college as an affordable and cost-effective way to garner your certification.
Whether the economy is growing or
recessionary
, teaching is often considered to be one of the most stable
careers
. While teaching salaries and wages vary from state to state, most teaching positions tend to hold strongly amidst times of economic turmoil. Additionally, teaching often allows educators to pursue alternative careers and interests during the summer vacation season.
While teaching certainly offers an array of challenges and obstacles, many assert that the seasonal freedom and job security offer positive incentives for interested adults. With these perks and benefits, earning a teaching
certification
in community college may be a safe and strong professional move.
Benefits of Earning a Teaching Certification
As the
Birmingham Mail
reveals in their article "Teaching Offers More Secure Path in Troubled Times," the average number of people now considering pursuing careers in education has gone up nearly 34 percent in the past year. As the economy encounters unstable bouts of turmoil, a rising number of professionals and students are seeking out the potential advantages of a teaching's job security.
Interested candidates should seek out local or national scholarships and job offerings. For example, areas of high-need will often pay for a teacher's training and certification program if he or she agrees to work in that particular region for a certain period of time. Specifically, many inner city schools or rural schools are considered to be "high need," as their rate of student success paired with their high teacher turnover rates lead to a school's overall struggle to thrive and flourish. By agreeing to teach in specific areas for a designated duration of time, many adults and future teachers can take advantage of completely free certification programs at local community colleges!
Ultimately, however, whether or not an interested future teacher has the option of a free certification program, the career of teaching tends to be a highly stable and safe career pathway. While both universities and community colleges offer certification courses, most experts agree that community college certification programs offer more
affordable rates
with
lower overall tuition costs
.
Teaching Certification Programs
Austin Community College
, located in Austin, Texas, is one of the many community colleges offering diverse certification programs. According to ACC, qualified students can pursue certification programs in areas of math, science, bilingual education, special education, and other various certifications that are required by local schools. ACC's programs strive to provide students with hands-on experiences alongside both theory and practice. With an array of educational opportunities and events, ACC students are able to network with local schools and educators, learn how to quickly respond to student needs, while furthermore understanding how to improve their teaching abilities with expert instructors and supervisors.
Individuals interested in ACC's teaching certification program can take advantage of the future teacher offerings, in addition to the current teacher offerings. For example, non-current teachers who desire to become certified to work in a classroom can become trained as Para-Educators, where they will learn how to assist a regular-education teacher in his or her classroom. Additionally, ACC provides training for child care workers and substitute teachers as well. As ACC asserts, "We prepare teachers for the realities and rewards of the teaching profession by offering outstanding faculty and experienced teachers as facilitators." With a myriad of options and opportunities, ACC caters its certification programs to meet the diverse interests of all educators.
For students who have already earned their 4-year
bachelor's degree
, MCC offers an array of post-graduate certification venues to provide students with training, support, and critical information to enter into the teaching profession. According to MCC, its initial education program began with just seven students; however, with the expanding need for teachers in recent years, MCC now caters its educational training to over 200 students in 20 different educational subject areas.
While attending MCC, students will be exposed to various classes that help prepare future teachers for issues in a typical classroom, while students later have an opportunity to engage in an
internship experience
. With the various support courses and the internship exposure, MCC students are able to gain real-world experiences to enhance their teaching knowledge and abilities. MCC helps guide its future teachers through these steps with expert supervision and support.
If you are considering becoming a certified teacher, your first stop may be your local community college. With incredibly affordable programs and expedited graduation times, you may be teaching in the classroom sooner than you think!
Against massive budget cuts, community colleges have been forced to take drastic measures, including cutting entire programs ranging from the culinary arts to athletics.
Many students enroll in community college with the intent of transferring to a four-year school. Of those who do, many succeed, and yet traditional colleges and universities continue to overlook them. Read on to learn more about why more community college students don't transfer schools and to receive some tips for making the transfer yourself.
Community college is the only option for many students who either can't afford a traditional four-year university or who need a more flexible school environment. Just because community college is different, however, doesn't mean that its students matter any less. The Aspen Prize exists to encourage community colleges to do more for their students and to continually strive for improvement.