Community colleges offer a myriad of degree programs for students interested in creative careers. From glass blowing to fashion design, community college degrees are opening doors into many creative industries. Learn how you can prepare for a career in radio broadcasting, cosmetology or music at community college.
View the most popular articles in Creative Careers: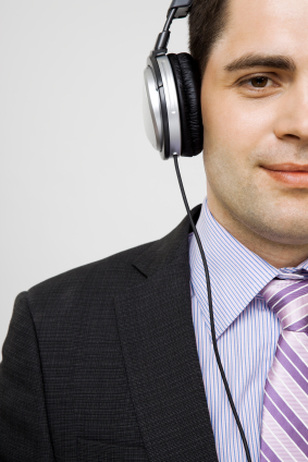 If you have a head for music and business, consider a career in the management and marketing of the music industry. Learn about how you can jumpstart a career in the music business at community colleges.
When people think of the music industry, they usually imagine the artists on stage as the bread and butter of the field. However, the real action in the music business takes place behind the scenes.
If you are interested in a career in the business side of music, there are plenty of community colleges offering
degree programs
that will get you out of the books and into the action much more quickly than the
four-year degree route
. Consider these opportunities waiting for you in the music business, as well as where you can obtain the training you need to jumpstart your entertainment career.
Career Opportunities Behind the Scenes
Whether you have a head for numbers or
fashion
, you can find a job you love in the music industry. Below, we have listed just a few examples of music-related careers found at the
Berklee College of Music website
for your consideration:
Artist Manager/Agent – This professional handles the career for a single musician or an entire band. The artist manager may be responsible for making both business and creative decisions to further the musician's career and hopefully guide him to the top of the charts.
Concert Promoter – If you enjoy organizing and promoting large events, this is the job for you. The concert promoter will also secure the financial backing for concerts by either funding them herself or finding sponsors. She will also choose the venues, set the concert schedule, and oversee the advertising for the event.
Booking Agent – These professionals
Take advantage of career opportunities in the field of radio broadcasting by starting your training at your local community college.
Whether you're interested in entertaining, sharing insightful commentary, reporting interesting news stories, or working in production, a career in broadcasting and radio may be perfect for you!
According to the
Bureau of Labor Statistics
, individuals in broadcasting can enjoy a medley of
careers
, although there is a wide range in income. For example, based on data from 2006, a station operations manager earned an average of $41 per hour, while producers earned approximately $27 per hour. The average income of reporters and announcers range from around $12 to $17 per hour.
If you feel you have the charisma and drive work in this interactive field, then begin your journey with the right training at your local community college.
Careers in Radio Broadcasting
Depending on one's
professional
goals and interests, students can pursue a variety of
degree
pathways to develop the necessary skills for a career in radio.
Commonly, students pursuing a career in professional radio earn their Associates of Applied Science degree. Students can enroll in departments such as broadcasting, telecommunications, or even specialized programs designed for radio technology and production. In examining some of the core classes often required by such programs, students may need to complete mandatory classes such as:
History of broadcasting radio
Public speaking
Radio broadcasting and writing
Advertising
Related technology and computer courses
Related legal courses pertaining to FCC guidelines and broadcasting laws
While each college has its own course requirements, broadcasting programs can often expand to include training for television, as well as radio. For example, students enrolled in
Cayuga Community College's
Telecommunications program
Learn about the dazzling jewelry programs and certificates that are available at your local community college campus.
For those who artistically inclined, creative, and motivated, there are a variety of rewarding
career options
in the field of jewelry design. According to
reports,
a jewelry designer earns an average income of just under $29,000 in the first year of work! After just five years of work, a jewelry designer can begin to earn an average of approximately $54,000 per year—and potentially more!
To begin an exciting and imaginative pathway in the field of jewelry design, students can start with programs at their local community college.
Jewelry Design Programs and Opportunities
Although many believe that the art of jewelry design simply involves aesthetic skills and training, this career actually incorporates technical understanding. For example, as inexperienced designers begin to craft their first pieces of jewelry, some of the pieces may be too heavy, may feel cumbersome to the wearer, or may not be made of a sustainable and durable material. Furthermore, some jewelry designers have learned to specialize in the creation of allergy-free jewelry, which is created with specific non-irritating materials.
Due to the industry's technical demands, designers are often more successful when they have a trained background. With the rising interest in jewelry design careers, community colleges across the country are now offering both
degree programs
and individual courses to provide students with the essential skills to become successful in this field.
Offering a Certificate in Jewelry Design,
North Seattle Community College
(NSCC) in Washington enjoys reputable courses and expert instructors. As NSCC explains, the purpose of the jewelry program is
Learn about the excellent traditional and modern art programs available at your local community college campus.
As technology advances, creative
career opportunities
follows suit. Today collegiate students can explore an array of artistic-based career pathways as digital animation, advertising, commercial design, product labeling, and many other options become increasingly available. At the root of these new and innovative careers, however, is the foundational talent of an individual's artistic ability. To foster these creative talents, community colleges across the country are gaining much deserved recognition for their outstanding studio art programs.
Community College Studio Art Programs
For students attending
Coffeyville Community College
, the artistically inclined can enroll in their renowned "Visual Arts Plan," where an array of classes is taught by expert instructors. As the college explains, "The Art Department at CCC is a place where you can come and explore your creative side. It is a place where you can express your ideas in a variety of mediums." Offering classes in ceramics, crafts, sculpture, drawing, painting, Photoshop, and design, students can navigate through the many potential pathways to find their own interests while honing their talents. At CCC, students have access to various artistic studios, all of which are equipped with the necessary tools and materials for both traditional and non-traditional mediums.
Adding to the extensive educational benefits, CCC art students are also provided with
scholarship opportunities
, where selected students are provided with
tuition
and/or book and material support. Furthermore, to celebrate student achievements and artistic creations, CCC exhibits student art around the campus. Adding to this, CCC students compete in an annual competition with other collegiate students. In
Learn about the new and dynamic music programs available at community colleges that explore more than just music theory.
While a wide array
community colleges
across the country offer traditional music programs in musical practice, theory, and study, many new community college programs are offering more unique and specialized musical education courses. Today, students can enroll in programs to study historically played instruments, or they can even enroll in courses that teach students how to become
employed
in the field of music management and production.
Edmonds Community College
offers a thorough and diverse array of music-oriented courses. Together, the Music Department of ECC established clear instruction goals, which include: "Giving students a solid foundation all facets of music, providing a range of performance and creative opportunities, offering diverse music theory and digital music courses, creating a dynamic, rich learning environment for students to pursue their passion for music and performing."
To guide students towards achieving and engaging in these goals, ECC provides a variety of performance opportunities and events. Most notably, ECC fosters positive programs for musical enrichment through organizations such as the symphonic choir, the jazz band and choir, and the jazz workshop. These groups, along with many others, serve to enhance student learning and performance experiences.
Adding to these support systems, ECC's Music Department also provides students with specialized acoustic fixtures in their music classrooms, various practice pianos and state of the art recording gear, in addition to ECC's state of the art recording studio with a digital interface that students can interact with through hands-on opportunities.
While many community college students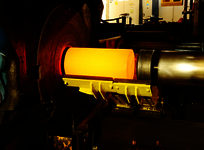 May 20, 2017
Corrosion technology is one of the hottest new industries community colleges are training for. Currently, only a handful of schools offer a program, but the field is open for new graduates.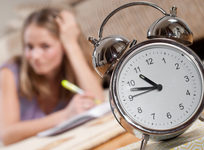 May 20, 2017
A recent report revealed that many California community college students take twice as long to get an associate's degree as is normally required. While community college is less expensive than attending a four-year institution, students who drag out their degree programs lose much of that savings in additional tuition, fees, textbooks, and lost wages. In this article, we examine the reasons why some students take so long to graduate.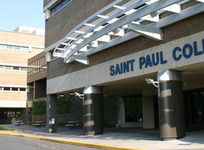 May 20, 2017
We take a look at the latest annual college rankings from Washington Monthly, which provide a list of the top community colleges in the country as well as four-year schools.