Healthcare Careers: Physical Therapy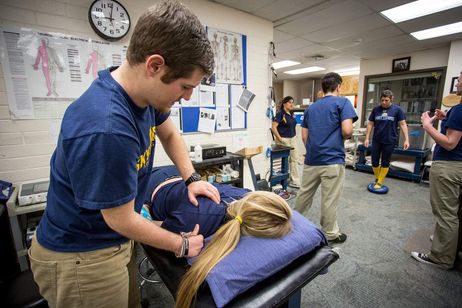 A career in physical therapy can be incredibly rewarding – and started right at your local community college. Learn more about the job roles, salary, and demand for physical therapy assistants.
Do you have a passion for helping people who have been sick or injured get back to their daily activities? Do you want to work with healthcare professionals in a hospital or outpatient clinic? If so, then a job as a physical therapist or physical therapy assistant may be the right choice for you!
While the tasks of a physical therapist can be physically demanding, the rewards of the job are great. Physical therapists enjoy a good salary, plenty of
job security
and the satisfaction of knowing they are helping patients who need their expertise to regain their quality of life.
What does a Physical Therapist Do?
Physical therapists help patients who have been ill or injured regain physical strength and range of motion to return to daily activities. Physical therapists work in a wide range of venues, including hospitals, nursing facilities and outpatient care centers.
Physical therapy assistants work directly with physical therapists, providing assistance and support to patients and professionals alike.
Some of the tasks of a physical therapy assistant might include:
Providing exercise instruction to patients
Using therapeutic methods like ultrasound and electrical stimulation
Offering massage to patients
Providing balance training
Gathering and preparing equipment for physical therapists to use
Teaching patients to use assistive devices like crutches
The job of a physical therapy assistant may be physically demanding at times, as assistants may have to lift patients or equipment. They may be on their feet many hours of the day, working with patients on exercises and rehabilitation.
According to the American Physical Therapy Association, to become a physical therapy assistant, you must complete a two-year associate's degree through an accredited community college. You must also receive licensure or certification to practice in most states. The annual salary for a physical therapy assistant is around $46,000, depending on the education, experience and geographical location of the individual.
How Can You Become a Physical Therapist?
Because physical therapists and physical therapy assistants are in high demand, many community colleges are currently offering physical therapy degree programs. Programs to become a physical therapy assistant take just two years to complete, while physical therapists usually begin with a four-year degree from a university. If you begin your training with an associate's degree at a community college, you may be able to use your education to earn a degree in physical therapy more quickly from a university.
Consider these three community colleges offering programs in this field of study:
Baltimore City
is just one community college across the country offering a two-year degree program for physical therapy assistants. Graduates of the program are eligible to take the National Physical Therapy examination to qualify for licensure as a physical therapy assistant. The program combines classroom and lab work with practical experience working with patients in a clinical setting.
Tacoma
works with select universities in the Washington area to prepare students to further their education in physical therapy after receiving their associate's degree. Once coursework is completed through
Tacoma Community College
, graduates can transfer credits to University of Washington, University of Puget Sound or Eastern Washington University to earn a bachelor's degree in physical therapy. Advisors work closely with students to help them gain eligibility to one of the programs at the university level.
Gateway College in Arizona also offers a two-year program to train to be a physical therapy assistant. According to the
Gateway website
, the program generated a 100% job placement rating among graduates from 2006 to 2008! The school also boasts a 98.9% pass rate on the National Physical Therapy examination to certify graduates for work in the field.
Whether you want to work as a physical therapy assistant or further your career with a four-year degree in physical therapy, there are many opportunities available. For those who are interested in using the associate's degree as a
transferring
springboard to a four-year degree and licensure in physical therapy, look for a community college like Tacoma that works directly with the universities to prepare students for that career path. If you want to get into the workplace as soon as you earn your associate's degree, consider a college like Gateway with a high pass rate on the National Physical Therapy examination.
The field of physical therapy is a demanding a rewarding one, with a bright job outlook and good annual income. With many colleges offering programs in physical therapy today, you can be on the road to a rewarding career in just two years' time.
Community colleges are paving the way for exciting careers in robotics. Learn more about the programs that could train you to be a robotics professional.
The COVID pandemic forced airlines and all their related and ancillary businesses to shed employees. Consequently, as things ramp back up post-COIVD, there are tens of thousands of job opportunities in the sector. Your community college has the resources to prepare you and refresh your skills for new opportunities.
Want to be a teacher? Wondering what's involved and where to start? Your community college has answers to those questions and many more.