Whistling All Animal Lovers! Pursuing an Animal Service Career at Community College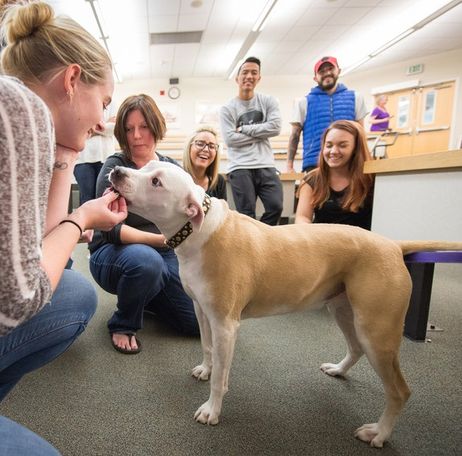 Learn about how courses and training at your local community college can open the doors to a fulfilling animal care and service career.
If you love working with creatures furry, scaly, and sometimes prickly, then community college can be an excellent starting point for your animal service
career
. In fact, according to
College Grad
, students interested in animal service have a wide variety of
career options
, including animal training, veterinary assistance, zoological services, kennel attending, breeding assistance, grooming services, and much more.
If animals are in your professional future, learn more about unique community college classes that can help prepare you for your career in animal services!
Animal Care Career Pathways
Animal Care and Management Technology
For students who are interested in learning the necessary skills and experiences to work in the animal care industry, Durham Technical Community College (DTCC), located in Durham, North Carolina, provides students with diverse courses and opportunities for hands on practice.
As DTCC explains, courses in the Animal Care and Management Technology program teach students about the basic sciences of animal work, while
instructors
also educate students on the
legal
and management skills that are essential for both animal and human interactions. Adding to this, "This course of study offers the student a wide variety of employment options. Opportunities exist with humane organizations, kennels, city and county animal control agencies, animal shelters, zoos, residency facilities, and veterinarians."
In addition, to help students who are juggling challenging schedules, DTCC also offers cooperating courses at the nearby
Alamance Community College
Campus. With this option, students can enroll in select weekend courses at Alamance, while also continuing their weekly course schedules at the Durham campus.
Veterinary Technology
For students seeking a career in veterinary care, schools such as the
Portland Community College
(PCC), located in Portland, Oregon, allow students to earn their
Associate
of Applied Science Degree to work in the field of veterinary technology.
As PCC explains, students with a degree in applied veterinary sciences can gain
employment
in fields related to research, zoo care, parks, wildlife preserves, animal control organizations, and even veterinary diagnostic laboratories. Delving deeper into this pathway, PCC further asserts, "Becoming a veterinary technician can provide you with the skills and knowledge you need to work towards the greater good of animals and to prepare you to begin working to understand their unique contribution to all of our lives." As working with animals helps students to broaden their understanding and appreciation of animals in society, the veterinary technology program ensures that all students gain the diverse skills and knowledge to improve their lives and their surrounding habitats.
Zoo Animal Technology Program
With a rare and unique degree pathway,
Santa Fe Community College
(SFCC), located in Gainesville, Florida, is the premier wild animal technology program in the country. With its very own zoo for hands on training and instruction, SFCC provides students with 10 acres of diverse animal collections. By working with mammals, birds, reptiles, and amphibians, students learn about the details of daily care for animals, working with the public, and even habitat construction and maintenance.
To graduate from the program, students will complete five semesters of courses that range from practical instruction to clinical experiences. Also, since the zoo welcomes more than 30,000 visitors each year, students will be able to gain even greater experiences as public tour guides and informational aides. As students move through the required courses, individuals will enroll in engaging classes such as:
Basic Keeper Technology and Lab
General Biology
Animal Management Lab
Animal Nutrition
Animal Breeding
Mammal Culture
Related Zoo Topics
Aquarium Culture
General Psychology
While the SFCC program is small, accepting only around 50 new applicants each year, students who are admitted into the zoological program can be confident in their education and future career. In fact, with the opportunities presented at many of our nation's community colleges, students can pursue an extraordinary future in animal services.
After 80 years and a powerful program, Grand Rapids Community College cites scheduling conflicts and compliance challenges in bringing its football tradition to an end.
A $1.25 million donation to Cape Cod Community College will greatly expand the dental hygiene program for the school. This is particularly important since it is not only the only dental hygiene program within a 50-mile radius; it is also serving the needs of the low-income and uninsured members of the community.
An investigation revealed major construction errors, immediate demolition of newly renovated buildings, and millions lost in administrative blunders in the Los Angeles Community College District. Learn about how billions lost due to poor planning and terrible mistakes in Los Angeles.