How to Earn Extra Discounts As a Community College Student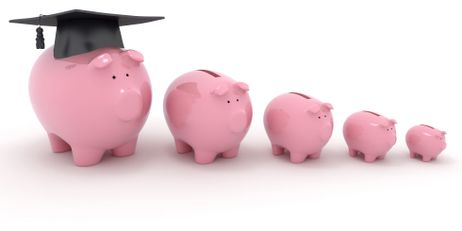 Are you taking full advantage of your status as a student? Learn where you can show your student ID to take advantage of discounts that add up to hundreds, if not thousands, annually in savings.
Every college student is familiar with the challenges of
managing finances
amidst the pressures of
tuition
and book costs. Burdened with tests and assignments, many community college students have little time to earn supplementary income while enrolled in courses as a full-time student.
Fortunately, that seemingly simple college ID stowed away in one's wallet can actually help students save hundreds of dollars each year! With nearly endless discounts offered specifically for college students, showing your community college ID can help increase the amount of cash in your wallet immediately.
Technology on the Cheap

If you're in the market for a new laptop, cell phone, or another form of technology, it will financially benefit you to shop with companies that cater to students' needs. Many of the companies that offer technological products strive to attract buyers with enticing college discounts.
For example, Apple Computers gives college students,
instructors
, administrators, and college staff members "Apple Eduction Pricing" on select products. You may be able to save hundreds of dollars on your next computer simply due to your community college student status. In addition, Apple also offers occasional promotions specifically for students. For example, when an eligible student purchases a computer, he or she may be able to receive another free Apple product.
Other technology-based companies that offer various student discounts include Dell Computers.
This video describes Apple's Back To School program.
Almost Free Entertainment
Before paying for the rising cost of a movie ticket, always remember to show your student ID. Movie theaters often offer significant savings for students, with some
theaters
reducing ticket prices by 25 percent or more.
Additionally, students enjoy discounts through local restaurants, especially for those that operate near your campus. Restaurants and entertainment locations near a college campus typically offer 10% student discounts or a special incentive for visiting the establishment on a specific day of the week.
Most public cultural centers in your city will offer student discounts. When you visit a museum, botanical garden, or historical society, ask about student discounts. Performing arts theaters and orchestras usually offer student discounts as well. More often than not, you can enjoy savings that will leave more money in your wallet.
Sports fans
should take advantage of student discounts at local sporting events. Most professional sporting teams offer student discounts, although you will need to inquire about applicable dates. You often need to purchase the discounted tickets in advance as well, but the effort is certainly worth the savings.
This video outlines 10 things college students get for free.
Health, Beauty, and Fitness for Every Budget
Students can also maintain their health and appearance while cutting down on costs as well. For example,
Virginia Highlands Community College
(VHCC), located in Covington, has secured many discounts for their students. Specifically, students who want to improve their physiques can take advantage of student discounts by visiting cooperating facilities such as:
Absolute Jiu-Jitsu

Anytime Fitness

Curves
Furthermore, students hoping to maintain their trendy hair cuts and colors while enrolled in classes can visit one of many participating salons, each with its own student promotion package.
Rent and Transportation on a Dime
Believe it or not, simply showing your college ID to your landlord can save you hundreds of dollars! For example, as the
Salisbury Area Chamber of Commerce
posts, local community college students are able to take advantage of nearly hundreds of discounts; most notably, students can even save on their housing costs. For example, the local Brittingham Square Apartments waives the mandatory $200 community fee with proof of student status. Similarly, Salisbury Housing offers $100 off a college student's first month's rent, while individuals residing at University Park Student Apartments are able to have their application fees waived for free!
Adding to the necessities of rent, you can even save significant dollars when pursuing the lease or purchase of a car. As
Virginia Highlands Community College
further reveals, the local Aaron Sales & Lease Company offers a completely free month when you sign an auto lease agreement. If you're not in the market for leasing or buying a
vehicle
, your closest transit system (such as the bus system, subway, train, etc) may offer free or reduced rates for students.
This video describes discounts students can look for and take advantage of.
While promotions for various retailers and companies vary depending upon the city, students can often take advantage of savings that add up to hundreds, if not thousands, annually.
Questions? Contact us on Facebook. @communitycollegereview
What states are home to the most diverse and least diverse community colleges? In our exclusive diversity report, we analyze our data to determine how much diversity there is on community college campuses throughout the United States. In addition, learn about the benefits of attending a community college with a diverse student body.
As the third wave of TAACCCT grants are issued, we take a look at how community colleges are using this federal money to beef up job training programs across the country.
We take a closer look at the Upward Bound program, which is designed to prepare students for college whom might not otherwise succeed due to economic or family factors.