Fashion Careers Start at Community College Runways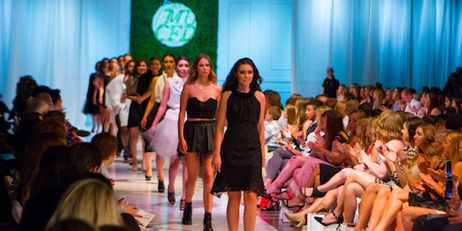 Learn about how you can embark upon a fashion career starting with the fashion design, merchandising and buying courses available at local community colleges.
This video is one of dozens describing the college's apparel making classes.
This video celebrates the 25th Anniversary of NCC's Fashion Program.
For students who are interested in other forms of fashion, NCC also offers a degree in Fashion Buying and Merchandising. With this focus, students learn about import buying, textiles, publicity, fashion coordination techniques, and even advertising. Students in this focus area have the opportunity to participate in internships and cooperative work experiences, providing all NCC students with hands-on experience and in-depth training. Upon graduation, students with a degree in this area will be able to apply for jobs in designer showrooms, fashion publications, fashion firms and manufacturers, retail stores, or even in resident buying offices.
This video offers a look at Pima Community College's fashion design program.
Ultimately, all of the required courses in this academic pathway prepare students to earn an Associates of Applied Arts degree. Upon graduation, students can immediately enter into the fashion career industry or transfer to continue their studies at a four-year university. If students choose to pursue immediate employment, PCC states that graduates can pursue entry-level positions with clothing manufacturers, tailors, or specialty clothing shops.
Questions? Contact us on Facebook. @communitycollegereview
One out of 10 community college students lose their credits when they transfer to a four-year university. Don't become one of these statistics, and learn how to ensure your hard-earned credits are transferred.
Many common myths about community colleges exist, but as they continue to diversify and offer cutting-edge programming, two-year institutions are fighting back against these long-held stereotypes.
The Online Education Initiative will greatly expand course offerings for community college students, while making the transfer process between institutions much more smooth. The Initiative has its critics, however, who decry the loss of local control over education.