How Community Colleges are Inspiring Young Girls to Soar to Success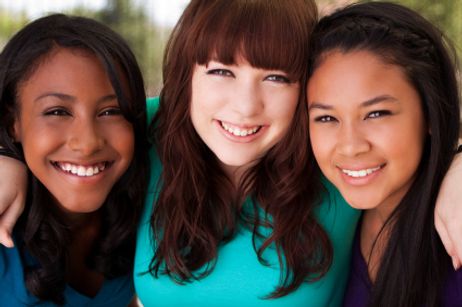 Learn about how community colleges are introducing programs that inspire young girls to achieve more academically, socially, and emotionally.
Understanding the learning difference between genders, community colleges are taking an active role in encouraging the full mental and emotional development of young women. Many community colleges are creating new programs solely dedicated to providing young female students with leadership and role model opportunities.
Striving to boost young girls' feelings of self-worth, confidence, and determination, community college programs for young females are available at local campuses across the country.
Community College Youth Outreach Programs
Many community colleges have created
youth programs
that are co-ed. For example, Corning Community College, located in Corning, New York, provides younger kids of any gender with an opportunity to celebrate their heritage with a local "Cook Kids" campus group. With this group, children can engage in various events, such as the "Cook Kids Young Spirit Dancers" venue, wherein participating children will wear an authentic Native American outfit from their family's ancestry or tribal affiliation. Members of this particular youth group range in age from 3 to 24, and therefore, individuals of various backgrounds and maturity levels can interact and learn from one another. With events such as this, children can learn more about their history, grow in their own personal identity, and boost their confidence and social relationships.
While these co-ed programs are certainly effective and positive, many campus leaders have realized that boys and girls may occasionally need separate opportunities to encounter success. Specifically, to provide girls with unique and individualized opportunities, an array of campuses have set up workshops, classes, and social
groups
to teach young females about the importance of
career goals
, education, self-esteem, and additional imperative focuses.
Teaching Young Girls to Soar!
College for Every Student (CFES)
College for Every Student
, a national organization focused on teaching all young children about the importance of attending college, is one of the many programs creating specialized opportunities for young girls.
With CFES, along with the cooperation of MetLife, young females can enroll in the "Ladies by Choice" mentoring program. By pairing young female students up with older women mentors, girls have reportedly been earning collectively
higher grades
, have been demonstrating more positive attitudes, and are beginning to reflect holistic improvements in their confidence and character. As a CFES mentor describes, "'Scholars who had been getting C's on their report cards the previous year were now averaging A's…They did not want to miss school. They felt good about themselves and felt that they really mattered. They wanted to be the first in their family to go to college and finish college.'"
With the unique and personalized opportunity for young girls to engage in a positive relationship with an older female, CFES and participating local volunteers are inspiring young girls to focus more on their educational futures and options.
Continuing the inspirational efforts demonstrated by CFES,
Rogue Community College
, located in Grants Pass, Oregon, has also created programs to inspire young women. After being rewarded with a grant from the American Association of University Women, RCC has continued its focus on "creating an awareness of career options in the areas of Science, Technology,
Engineering
and Mathematics." As these core fields are typically dominated by men, RCC is creating unique community opportunities to expose young females to these incredible academic and
career pathways
.
For example, at one RCC female-focused event, the campus sponsored a "Careers, Salary, and Inspiration" workshop to inform young women of issues pertaining to the professional workforce. Specifically, the conference's keynote speaker discussed issues of gender and wage, while also discussing the importance of bridging the
pay
gap between the two sexes. While men are certainly welcome to attend and participate, these types of conferences are generally geared towards young high school and college age women who want to find out more about their various career and professional options.
With mentors, professional speakers, and various programs, community colleges across the nation are successfully inspiring females for future achievement.
Complaints about the current system of accrediting community colleges, combined with the quickly changing scope of community college education and how it's delivered, may soon necessitate changes in the way that community college programs are accredited.
Community college enrollment is in decline, but some schools are refusing to roll over. Read on to learn the factors impacting enrollment rates and what some schools are doing to stay afloat.
In a time of change, the LGBTQ community is receiving more support than ever and the world is changing with each passing year. As a young adult member of the LGBTQ community, you have unique opportunities to take advantage of when preparing to enter college if you choose to. Keep reading to learn what you can expect to see during your college search and how best to prepare for your freshman year.