5 Star Hospitality Programs In Community Colleges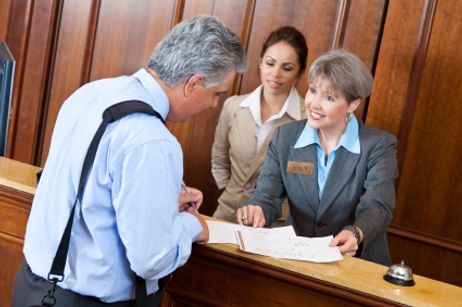 Today's community college culinary and hospitality programs come with impressive training restaurants and hotels. Learn more about these five-star worthy training facilities and programs.
In the past, students who were interested in stellar
culinary or hospitality programs
would look to four-year universities to supply the necessary training to launch a successful career. However, community colleges have recognized the rise in popularity of these professions and have responded to the call with state-of-the-art facilities to rival any university.
If you are interested in a career in the hospitality industry, be inspired by what these top community colleges across the country have to offer.
Career Opportunities in the Hospitality Industry
Arts, entertainment, and recreation
Foodservice and drinking places
Hotels and other accommodations
The BLS predicts that job opportunities will be plentiful in both the foodservice and hotel category, due to the prevalence of young people within the industry and the high turnover rate. They also estimate that in 2008, there were approximately 546,000 privately owned food and drinking establishments across the United States and more than 64,000 places providing an assortment of accommodation options. In addition, many hotels offer their own restaurants, with chefs and support staff working directly within the hotel industry.
According to the BLS, jobs in the hotel industry are expected to grow at a rate of approximately 5% between 2008 and 2018. Foodservice jobs are expected to grow by 8% within the same time frame. While many individuals gain employment in these industries right out of high school, additional training provides a competitive edge, as well as the opportunity to advance more quickly within the field.
Leading the pack in culinary arts and hospitality training,
Kirkwood Community College
in Cedar Rapids, Iowa, recently opened its brand new fully-functioning training hotel, as reported in
CTI Career Search
. The Hotel at Kirkwood Center has 71 rooms and a gourmet restaurant, as well as training facilities that include two culinary labs, a
bakery
lab, a computer lab, an auditorium, and five classrooms.
In a report on Kirkwood at
Inside Higher Ed
, culinary arts student Andrew Irwin said, "It was an absolute shock when we first toured the facility last semester. When we looked at the new kitchens, our jaws hit the floor. It's like nothing we ever expected." Prior to the opening of the facility, the college taught the majority of its hospitality training through lectures. Now, students learn by doing, with hands-on training that will surpass what students expect in many four-year universities today. The training hotel and restaurant will allow students to work in every aspect of hospitality, from housekeeping to line chef.
At another location in Iowa, students are learning the hospitality ropes through the $2.3 million Culinary Arts and Hospitality Management Center at
Scott Community College
. The center, which opened in time for the fall semester, according to the
Quad-City Times
, offers practical, hands-on training through a variety of labs, a full kitchen, and a dining room. The center also provides a hotel room, front desk, and commercial laundry facility, so students can learn the ins and outs of running a hotel.
Chris Carton, executive chef, and food and beverage director for the Davenport RiverCenter, says that many Scott graduates are now running their own establishments in the Quad-Cities. He told the Times, "I think this is a fantastic opportunity for the community and for anyone that's interested in the culinary arts, either as a hobby or as a profession."
This video describes how Scott Community College has operated in conjunction with the Chefs de Cuisine Association of the Quad Cities. Apprentices work at one of the chapter's 65 approved apprenticeship sites under the supervision of the executive chef to complete a total of 6,000 hours on the job.
This Ohio college just recently unveiled its new Hospitality Management Center, a state-of-the-art facility featuring classrooms, a demonstration studio, and a video "wall," where passers-by can view the action. The center offers programs in culinary arts, lodging/tourism management, and restaurant/food service management.
The center at Cuyahoga will partner with establishments in the area to enhance training opportunities to current students and provide additional training to restaurant staff in the area already working in the industry and wanting to hone their skills.
Today's community college culinary and hospitality training centers certainly earn their five-star stripes!
This video describes the Culinary Arts at the Hospitality Management Center of Excellence at Tri-C which will give you the education you need o work as a professional in the food industry.
Dr. Jerry Sue Horton, president of
Cuyahoga Community College
, said on the
college website
, "The Hospitality Management Center comes at a great time for our community, with the downtown casino, convention center, Medical Mart and several new hotel projects either about to break ground or in the planning stages. The Center provides outstanding opportunities for our students with the location just around the corner from East Fourth Street and its more than a thousand jobs in the entertainment industry."
Finding work in the hospitality industry may be much easier, thanks to the modern training facilities cropping up across the country. With community colleges raising the bar on education in hospitality and culinary arts, students are finding that a one or two-year degree is all it takes to get their foot in the door of a rewarding hospitality career.
Questions? Contact us on Facebook. @communitycollegereview
Your local community college campus offers a variety of art programs both traditional and modern. Find out more about them here.
With serious mental health issues on the rise on college campuses nationwide, community colleges are scrambling to provide expanded mental health services to students.
From nuclear medicine to physical therapy, consider 10 in-demand jobs for community college graduates. With salaries ranging from $50,000 to even $100,000, opportunities are ripe for those with the right training from community colleges.