Learn the Art of Wine-Making at Your Local Community College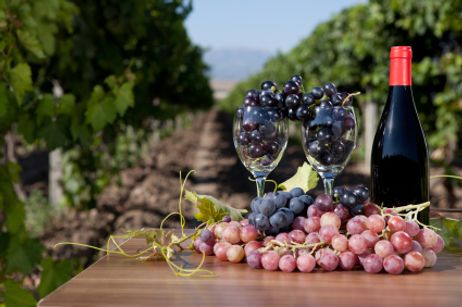 We'll report on the new wine-making program at Walla Walla Community College in Washington, as well as programs at other community colleges nationwide.
The West Coast is an area filled with fertile land perfect for wineries, which is why the wine making industry has become big business for western farmers. Many community colleges are acknowledging the success of the wine-making industry by offering degree and certification programs for aspiring wine makers. While one Washington college has been duly noted for its contribution to wine making in the area, it is not the only school to offer the necessary training for employment in this lucrative industry.
Winemaking 101
According to the Huffington Post, Washington has the second highest numbers of wineries than any other state in the nation. It also ranks third in overall wine production. With this distinction, it makes sense that one of the biggest wine making degrees in the country would also be located at a community college in Washington. However, Walla Walla Community College in Walla Walla, Washington, isn't the only school to capitalize on the need for trained workers in the wine industry. Other schools in the state, as well as in Oregon, have also provided training programs for local wineries.
The art of winemaking is a complex one that begins with planting the grapes and ends with marketing the finished product. Throughout the experience, training is required for grape growing and wine making, also referred to as enology. Once the wine is ready, workers in the industry must learn wine tasting and marketing products to the hospitality industry. While the work was often passed down through generations of families, the growth of the wine industry throughout the West Coast has left many wineries in need of skilled workers to handle the various components of the industry.
Success in Walla Walla
Twelve years ago, Walla Walla, Washington, was seeing an economic crisis, according to a report at PBS. An area that had once been rich in wheat and other types of crops had seen a decline in the industry with the introduction of free trade agreements and cheap imported produce into the state. Residents of Walla Walla suddenly found themselves out of work, as the food processing industry died a slow and painful death in the state. The town suffered, with stores closing and hundreds of people suddenly desperate for employment.
When a small group of farmers in the area turned their sights on winemaking with some initial success, Walla Walla Community College wasted no time coming onboard the idea. The college launched its own winemaking training program, with plenty of hands-on training at the schools own vineyard. Students in the two-year program learn every aspect of winemaking, including grape growing and pressing, and barreling and blending of wine. Wine tasting is also a part of the program, although students must be 21 to take part.
The Growth of the Wine Business
Since the program was launched, wineries in the area have grown from 19 to 174, bringing Walla Walla back to economic health. PBS reports that 80 percent of the students that graduate from the winemaking program at Walla Walla Community College go straight into jobs in the industry. Students can make anywhere from $25,000 to $55,000 right out of college, in jobs as vineyard managers, cellar workers and wine makers. One school official told PBS that as many as 25 students from the program now own their own vineyards as well.
The program has been as good for the community college as it has been for the community. According to the report at PBS, Walla Walla Community College has been one of the top 10 finalists for the
Aspen Institute's College Excellence Program
, which measures student outcome and success, for the past two years in a row. The program has been recognized in national media as well, as one of the more creative and successful methods for
training workers
and revitalizing a local economy in the country.
Other Schools Offering Winemaking Degrees
The success at Walla Walla Community College has inspired other community colleges up and down the coastline to create similar training programs for their students. While the Walla Walla program is still one of the largest and best known, students don't have to move to this Washington city to get their hands-on training for a career in the winemaking industry. Other schools offering similar training include:
This school pairs winemaking training with their
culinary arts degree program
. Students at
South Seattle Community College
will learn how to make their own wine, market wine or pair wine with various foods. The school currently offers three different certificate programs, but is working toward a two-year degree programs that are transferrable to a four-year institution in the area.
This Oregon community college also offers degree programs in both viticulture (wine growing) and enology. According to the Umpqua Community College, there are currently more than 700 vineyards throughout the state of Oregon, making this a training program with a myriad of possible employment opportunities after graduation. Those who graduate from the programs can find work as vineyard or cellar managers, winemakers, viticulturists or lab technicians.
This is another Oregon school offering training programs in winemaking. The Chemeketa Community College programs include specialization in winemaking, wine marketing and vineyard management. The program features hands-on training at the Northwest Viticulture Center located at the school's Eola campus.
Winemaking has come into its own in the U.S., as the West Coast has seen tremendous growth in this industry in recent years. To answer the call, community colleges in the area are now offering winemaking degrees that prepare students for all aspects of the wine industry. For those who are more apt to critique wine rather than make the drink, there are also community college programs in wine tasting!
We look at why millions of Americans are choosing community college over a traditional four-year school today.
Many students enroll in community college with the intent of transferring to a four-year school. Of those who do, many succeed, and yet traditional colleges and universities continue to overlook them. Read on to learn more about why more community college students don't transfer schools and to receive some tips for making the transfer yourself.
Community college is the only option for many students who either can't afford a traditional four-year university or who need a more flexible school environment. Just because community college is different, however, doesn't mean that its students matter any less. The Aspen Prize exists to encourage community colleges to do more for their students and to continually strive for improvement.