Run Towards the Finish Line with a Community College Marathon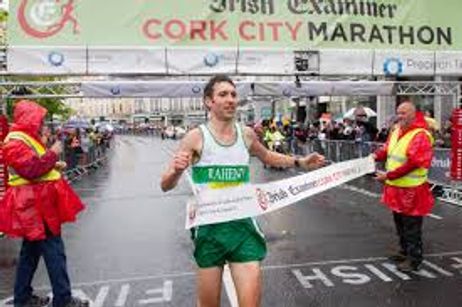 For novice and competitive runners alike, community colleges across the country offer fun marathon events, as well as an opportunity to join collegiate marathon teams.
Are you willing to go the distance? Marathon enthusiasts can find fantastic races on their very own community college campuses. Through marathon
clubs
or
teams
, community college students not only race against their colleagues, but against their professors too!
If you're curious about what it takes to become a marathon runner, or if you're hoping to find fellow students to join for long distance running, consider community college marathon groups available in your local area.
Benefits of Joining Community College Marathon Teams
Marathon teams are literally springing up at
community college
campuses across the country. For example,
Highland Community College
, located in Highland, Kansas, offers a highly competitive Highland Marathon Team for eligible students. In examining the Highland Women's team, runners were able to compete at the
National Junior College
Athletic Association Half Marathon Championships, where participants raced in a 13.1 mile event.
Hosted at a different community college campus each year, the 2008 race was held at Johnson County Community College. Setting a six-year record for the Athletic Association's, 185 runners representing a total of 27 different colleges participated. Individual runners hoped to earn fast times, and each college team strove for a top prize and ranking. According to the Highland Women's Marathon Team records, several of the school's top runners completed the race in under 1 hour and 45 minutes!
If you're curious about how to join your community college marathon team, you may need to try out to showcase your speed and skills. Most community colleges limit their number of participants, as the cost of training and competing can be prohibitive. Subsequently, only individuals who can prove their endurance and running times may be eligible for team entry.
However, there are many benefits associated with joining a community college marathon team. In addition to coaching and competition sponsorship, students who are officially part of a community college marathon team may also be eligible for scholarships!
The National Junior College Athletic Association
generously provides 30
scholarship
opportunities for community college students competing in either cross-country or marathon teams at the collegiate level. Some of the scholarships are very comprehensive, covering all educational and living costs. Additional
grants
and
financial aid
endowments are also available for eligible teams.
Reasons to Run on Campus
Even if you are not a competitive runner, there are many rewarding marathon opportunities on community college campuses. For example, as
Mlive
reveals, nearby residents and students attending
Mott Community College
, located in Flint, Michigan, are welcome to join the school's "Healing Hands" race. Although this 5 kilometer race is not a full marathon, all participants' entry fees are subsequently donated to the nearby Genesee County Free Medical Clinic.
Elsewhere in the country, schools such as
Hartford Community College
, located in Bel Air, Maryland, offer fun marathon opportunities for runners of all levels. At Hartford, leaders have created a "Walk-A-Marathon" team-based competition, where students work with fellow walkers and runners to complete the 26.2 marathon distance over a set period of time. By offering rewards, group support, and teamwork benefits,
Hartford Community College
students can partake in fun marathons, regardless of their experience level.
While each community college may offer its own half marathon or full marathon events, some of the most popular races in the country utilize the support and facilities of local colleges. For example, the Arizona Marathon, scheduled for February 14, 2010, brings in hundreds to thousands of athletes ready for the long distance challenge. The Arizona race takes off from the
Estrella Mountain Community College
campus, located in Avondale, putting this community college right in the center of the running action.
Whether you are a novice or competitive marathon runner, opportunities abound at your local community college!
With serious mental health issues on the rise on college campuses nationwide, community colleges are scrambling to provide expanded mental health services to students.
We examine a new report at USA Today that shows employment rates for community college graduates have skyrocketed - and which of the fields where a community college degree is particularly helpful.
Who says college is just for the 18 - 22 year old crowd? In fact, more community colleges are recruiting students over the age of 50 - and for good reason!