Financing Basics
Build the foundation needed to navigate the community college financial aid system. Learn which schools are the most affordable, get money tips on reducing college costs, and explore the latest initiatives to make community colleges even more accessible.
View the most popular articles in Financing Basics: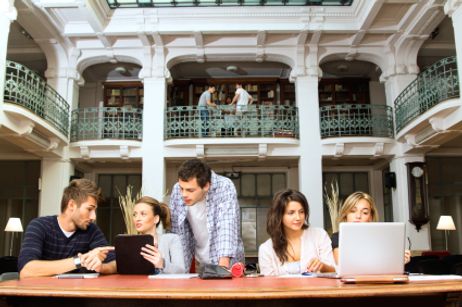 Learn about the benefits of a work study program for community college students.
Although community colleges are significantly more affordable than four-year institutions, the tuition, administration fees, living costs, and book expenses can add up quickly. Unfortunately, according to 2008 research conducted by the Project on Student Debt, one out of 10 community college students cannot access federal student loans. For these students, Pell Grants often become the primary source of education funding.
However, if your community college offers federal student loans – which the majority of large, public, non-rural campuses do – then you may want to consider federal work-study (FWS) programs, which are also known as Formula Grants.
Unlike other forms of financial aid that are strictly given as grants and loans, the work-study program helps fund your education through your working efforts. The federal government provides your community college with specific grants, and then your campus works with community and nonprofit organizations to create job opportunities for qualified students. You are paid an hourly wage for your work, which is typically higher than the minimum wage.
The advantages of work-study programs
Garnering real-life experience
Attending community college prepares you for the real world, and with a work-study program, you can take that preparation to the next level. Due to the supply of work-study jobs, you are essentially "guaranteed" a job, if you qualify for the FWS program. Due to the significant incentives employers have, you are more likely to be hired for your job of choice under the FWS program.
Graduating from college with a degree is no longer sufficient for garnering an ideal job. As the economy becomes more competitive, it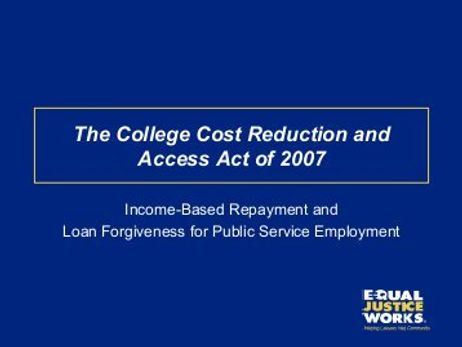 Learn more about The College Cost Reduction and Access Act of 2007 ("CCRAA" or the "Act"), which was enacted to make college more affordable for low- and moderate-income students by phasing in increases in government grants.
The
College Cost Reduction and Access Act of 2007
("CCRAA" or the "Act") was enacted to make college more affordable for low- and moderate-income students by phasing in increases in government grants. For example, in 2007 the maximum Pell Grant was limited to $4,310, whereas the maximum for 2012 is $5,400. The Act also decreases interest rates on government-backed loans and even cancels outstanding debt in certain situations. The favorable terms for grants and loans represent an important step forward in achieving universal access to higher education. This report examines the problem of inadequate college assistance, the enactment of the Act, the major provisions affecting college student borrowers, and the funding of the new benefits.
Rising Cost of Higher Education Leads to Massive Student Loan Debt
Federal student aid has not kept pace with the escalating cost of higher education and the reduced state support of public colleges and universities. As a result, some students decide that a college education is out of their reach. Other students and their families borrow increasing amounts to pay tuition and other expenses. Students who graduate with unpaid loans are burdened with thousands of dollars of debt that they must usually begin repaying shortly after graduation. Studies show that about 39 percent of college graduates under the age of 35 say it will take them more than ten years to pay off their loans. For graduates with low- or moderate-paying jobs, the monthly principal and interest due may far exceed their ability to
Community colleges are paving the way for exciting careers in robotics. Learn more about the programs that could train you to be a robotics professional.
The COVID pandemic forced airlines and all their related and ancillary businesses to shed employees. Consequently, as things ramp back up post-COIVD, there are tens of thousands of job opportunities in the sector. Your community college has the resources to prepare you and refresh your skills for new opportunities.
Want to be a teacher? Wondering what's involved and where to start? Your community college has answers to those questions and many more.