Should Freshmen be First or Last in Line?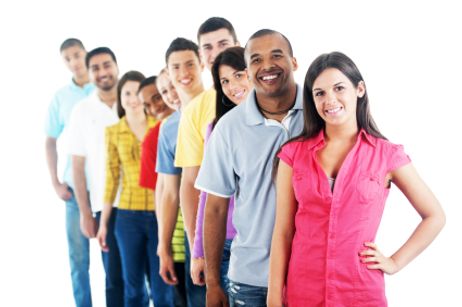 Freshmen typically wait last in line for class registration, but some community colleges are challenging this standard by giving the frosh class first priority. Learn about the new programs that are designed to give freshmen the first pick in classes at community colleges.
At most community colleges, freshmen are usually the last in line to register for classes. Unfortunately, this means many
new students
don't get the courses they need to pursue the degree programs of their choice. The end result is numerous frustrated, cash-strapped students – some of whom actually
drop out of school
because they can't afford the time or money it costs to wait around until necessary courses become available.
The good news is that some community colleges are hoping to change this scenario by restructuring the priority registration hierarchy. Freshmen may just get an earlier start on completing their
degree programs
.
Rio Hondo, located in Whittier, California, is bucking the trend on how freshmen register for their first semester. Instead of making students wait in the last spot, new students receive priority registration to help them enroll in the classes they need for their chosen degree programs. According to a report in the
Whittier Daily News
, high school students from El Monte Union High School District who enroll at Rio Hondo will receive priority registration during their first semester.
This video describes priority registration at California community colleges.
Henry Gee, vice president of student services at
Rio Hondo College
, told Whittier Daily News that the program will help new college students prepare for the career for which they are striving. Gee said, "Slots in the classes are so tight right now…if you show up and register last, there is hardly anything available. This really gives them a jumpstart in their career, taking the classes they want to take."
Part of the problem community colleges face, according to a report in the Pasadena Star-News, is that
budget cuts
have forced the campuses to cut the number of class selections they can offer. This results in fewer courses that tend to fill up quickly, leaving freshmen out of luck. Some students may face delays of months – or even years – in completing coursework, preventing them from quickly moving onto a
four-year institution
or into the career of their choice.
In addition to the early registration process, Rio Hondo students who maintain a 3.0-grade point average and take all the required classes will also be guaranteed admission to UC Irvine after their community college courses are complete. This ensures that motivated students can pursue their career goals, no matter what their background or financial situation might be.
School leaders at Rio Hondo, UC Irvine, and the school district agree that this program will be a significant boost to students who might be the first in their families to attend college and are completely unfamiliar with the admission process. Manual Gomez, UC Irvine vice-chancellor of student affairs told the News, "UCI is maybe 30 miles from here. UCLA is maybe 30 miles from here. But they might as well be 5,000 miles away in terms of the social reality and the social distance that some of these families and students actually must travel in their consciousness, in their development, in their confidence to arrive at the door of higher education."
Other Options
In addition to the pilot program currently offered at Rio Hondo, other community colleges are finding ways to help freshmen get the courses they need. According to the website for
Cerro Coso College
, also in California, students who graduate from high school with a high GPA and a few AP courses under their belts can be eligible for the college's
honors program
, which also provides priority registration. This program is designed to reward highly motivated students and also includes benefits throughout the student's time at Cerro Coso, as well as
transfer arrangements
to participating four-year institutions afterward.
This video describes how priority registration works at Sussex County Community College.
Pierce College
in Woodland Hills, California, offers priority registration to students who apply for admission to the college early in their senior year of high school. This gives early birds the chance to grab necessary courses before other students begin signing up. The deadline for early admission for Pierce is May 1
st
prior to the fall semester. The early admissions program is clearly explained on the
college's website
, so students can easily complete all the steps prior to the deadline.
Freshmen at community colleges frequently deal with the frustration of trying to register for courses whose seats have already been filled. This frustration may even result in some students dropping out of college before finishing their degree program and achieving their career goals. Fortunately, some colleges are creating new admission programs that allow freshmen to get the courses they need right away and increase their odds of academic success. Before you register for community college, find out what your college might do to help freshmen get the classes they need.
Questions? Contact us on Facebook. @communitycollegereview
If mixing your creativity with beautiful glass sounds inspiring, consider starting your hobby or career in glass blowing at community college.
Utilize our advice and practical tips for students interested in transferring community college credits to a four-year university.
We look at the many opportunities teens and kids can explore the local community college campus, through college-sponsored classes, camps and other activities.