Job Training Grants Coming to Community Colleges Coast to Coast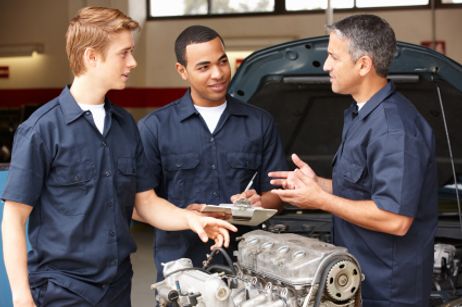 We'll report on more than $500 million in grants coming to community colleges for the promotion of skills development and job training. Who gets the money?
Some community colleges struggling with slashed budgets can rejoice, with $500 million in grants issued to these educational institutions. The grants will be provided through the Trade Adjustment Assistance Community College and Career Training initiative and the U.S. Department of Labor for the purpose of preparing qualified, skilled workers for a variety of in-demand industries. The initiative is part of a larger goal by the White House to expand the role of community colleges in building a workforce in America that is prepared to handle the needs of a
global economy
.
The grants were announced by Labor Secretary Hilda L. Solis, according to a press release at the United States Department of Labor website. A total of $500 million in grants will be issued to community college across the country that have demonstrated the ability to gear training programs to the needs of the area workforce. A total of 297 schools will receive grant funding, either individually or through consortiums. Schools will be allowed to use the funding as needed to expand workforce programs through additional staff, resources and learning materials.
Purpose of Job Training Grants
Solis explained in the
Los Angeles Times
that this funding will be used to restructure the priorities at community colleges across the country. In order to remain competitive in the new global workforce, American students must receive appropriate
training for in-demand fields
that are currently established or still in the development phase. This process requires a partnership between schools and leaders of the business community that hasn't been promoted in the past.
"That's a collaboration that hasn't really existed," Solis stated in the Los Angeles Times. "We saw some instances, but not often and not regularly. In the last decade, community colleges have lost sight of that. We don't just want [students] to get a certificate for the sake of getting a certificate. We want them to get a certificate that means something, that will put them in a good career path and land them a good job."
By focusing in this area, Solis said the United States can effectively bring back jobs from overseas, which will boost the economic health of the country. By the same token,
training students for industries looking for qualified workers
will have a positive impact on the unemployment rate and ensure more American adults can find steady, well-paying work, even with just a two-year degree under their belts.
"Right now, in the United States, the priority is to provide people with the training and skills needed to fill jobs," Solis said.
Illinois Schools Receive $15+ Million
Minnesota Colleges Get $16 Million in Funding
Minnesota is another state capitalizing on their success in training up community college students for employment in the state. According to the
Star Tribune
, community colleges in the state received a total of $16 million in grant funding, with most of the funding going to a multi-school consortium overseen by Central Lakes College in Brainerd. The consortium offers training in manufacturing for the state's community college students. Additional funding was offered to
Hennepin Technical College
for use in the school's manufacturing assessment and advancement centers.
New York Consortium Receives $14.6 Million
Another big recipient of funding grants from the Trade Adjustment Assistance Community College and Career Training initiative is New York. A consortium in this state, which consists of 30 SUNY community colleges, technical schools and four-year institutions, will receive $14.6 million from the $500 million grant. According to the Daily News, the funding came after a push from Senator Charles Schumer (R-New York), who personally lobbied the U.S. Department of Labor to gain access to a portion of the funding for his state's schools. The money will be used for training programs in growing fields like
nanotechnology
, advanced manufacturing and biosciences.
The funding is expected to train up about 3,000 students in New York over the short term, and hundreds more over the long term. The programs are currently in the developmental stages, and the funding will be used to establish permanent training programs in these industries. The schools, as well as around 100 companies throughout the state, will gain resources necessary to produce the team of highly trained employees these companies currently need.
The funding recently announced by the U.S. Department of Labor will go far in establishing training programs for the future workforce of the United States. As the money is carefully allotted, states and schools that are recipients of the funds will get the resources necessary to provide the highest quality of training possible.
We look at why millions of Americans are choosing community college over a traditional four-year school today.
Many students enroll in community college with the intent of transferring to a four-year school. Of those who do, many succeed, and yet traditional colleges and universities continue to overlook them. Read on to learn more about why more community college students don't transfer schools and to receive some tips for making the transfer yourself.
Community college is the only option for many students who either can't afford a traditional four-year university or who need a more flexible school environment. Just because community college is different, however, doesn't mean that its students matter any less. The Aspen Prize exists to encourage community colleges to do more for their students and to continually strive for improvement.