Community Colleges Leading the Pack in Digital Technology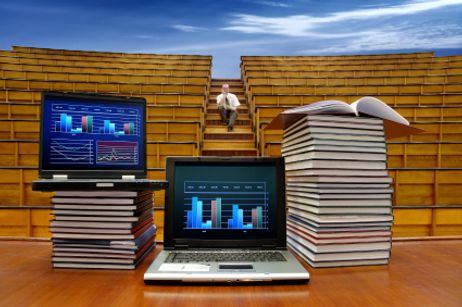 Calling all tech-lovers! A new survey by Republic's Center for Digital Education and Converge Online has ranked the community colleges that most effectively integrate digital technology into daily campus life.
As community colleges grapple with
large student populations
and fewer resources, technology has become one solution for meeting the needs of more students for less money. Schools that adeptly integrate technology into daily campus life can accommodate a wide range of student schedules, without addpress release on Market Watching more manpower to handle the job. The Center for Digital Education and Converge Online recently recognized some of the community colleges across the country that are making the best use of technology to enhance the education experience. These schools topped the list of the Digital Community Colleges Survey as some of the most technically savvy schools in the nation.
About the Survey
The recent survey by the Center for Digital Education and Converge Online took a number of factors into consideration as they were determining the top community colleges for technology usage, including:
Integration of technology into campus life and course curriculum
Documentation of online admissions processes
Sufficient technology training for both faculty members and students
Efficient use of Web 2.0 social functions
Ability to accommodate distance education
Ample online services for students, including tutoring and advising services
Ability to utilize campus security alerts through technology
With a number of factors considered, it becomes apparent that those community colleges that made the grade in this current survey find ways to integrate digital technology into every facet of daily campus life.
"As community college enrollments continue to increase, school leaders are incorporating new technologies to enhance student services and improve course curriculum," Cathilea Robinett, executive vice president for the Center for Digital Education, stated in a
press release on Market Watch
. "Expanded distance learning offerings,
use of mobile devices
, and greater collaboration – among other efforts – demonstrate these winners' drive to provide students with a
high-quality education at a lower cost
."
Lord Fairfax Makes the List with Multiple Technology Options for Students
Lord Fairfax Community College
has a commitment to integrating technology into the classroom and on campus with the primary purpose of making life easier for the students who attend the school. This college provides a wealth of technology options to students, ranging from lecture capture to provide them with class information they miss to video conferencing that allows students to get the classroom experience right at home. According to North Virginia Daily, Lord Fairfax received a fourth-place rating for mid-sized community colleges on the survey.
Richard Crim, the information technology strategist for Lord Fairfax, told NV Daily that he is constantly on the lookout for more ways to bring technology to the classroom. Crim explained that technology integration is a vital part of community college life today, especially if the local schools want to compete with larger online schools like University of Phoenix.
"It's just constant reading and conferences," Crim explained when asked about staying abreast of the latest technology innovations. "When something new comes out, try it," Crim added.
Johnson County Community College
is no stranger to the Center for Digital Education survey; in fact, the school has made the list nearly every year since 2005. This year is no exception, as JCCC is listed among the top schools of the large-college category (schools with 10,000 students or more). According to a report in the
Gardner Edge
, JCCC made the seventh slot for 2011.
"It's a great honor to be recognized by experts as one of the best in the country," JCCC President Terry Calaway told Gardner Edge. "Our faculty, staff and administrators find innovative ways to use technology in and out of the classroom to improve teaching, learning and student support."
A focus on distance learning has catapulted this small school of less than 5,000 students to the top of the Center for Digital Education survey once again. According to the
Longview News-Journal
, this school has made the top 10 list for schools of its size. Panola utilizes technology to promote their distance program, with teaching and learning opportunities on the school's website.
"We are pleased to get national recognition for how well we provide a high level of service to everyone at
Panola College
," Panola's Dean of Distance Learning, Ann Morris, told the News-Journal. "Every year the standards for the top 10 are raised. Panola may be a rural college, but our faculty and students have the same expectations as their counterparts at metropolitan institutions of higher education."
Jefferson State Community College Makes Top 10 for Second Time
Another school to make the distinction of the top 10 list is Jefferson State Community College. JSCC has been in this spot once before, getting a ranking in the Center for Digital Education survey in the large-school category in a previous survey. Jefferson State is committed to providing the best technology available for students, faculty and staff of the school, according to a report in the Shelby County Reporter.
"We are extremely proud of this recognition and our efforts to enhance student success through technology," Jefferson State President Judy Merritt told the Reporter.
About the Center for Digital Education
The Center for Digital Education is a national research institute that serves K-12 schools and institutes of higher education in providing information about the latest technology trends. The non-profit agency is also responsible for advising schools on the issues of policy and funding as it relates to bringing technology into the classroom. This is the seventh annual survey from the Center for Digital Education. Surveys are released annually and contain data from a wide range of community colleges across the country.
The chancellor of the California Community College System, Bryce Harris, recently stated more than 20 community colleges in the state were at risk of losing accreditation. In the midst of problems with City College of San Francisco, some are beginning to question the credibility of the accreditors.
Corrosion technology is one of the hottest new industries community colleges are training for. Currently, only a handful of schools offer a program, but the field is open for new graduates.
Going to college is a major commitment and a big decision – one that thousands of students postponed during the pandemic. Now that things are slowly returning to normal, what does the world of academia look like and what challenges are educators currently facing?