Community College Counseling: Academic and Personal Support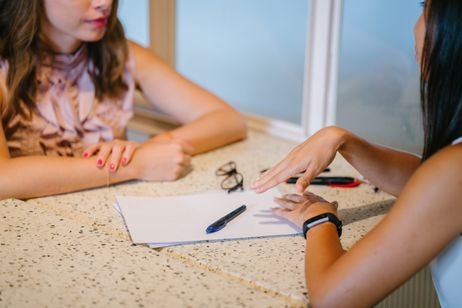 Your community college is an excellent resource for support; learn about the academic and emotional support available to you on campus.
As a rising number of students enroll in community college programs, the support of a community college counselor is becoming increasingly vital. As researcher Preston Pulliams from the ERIC Clearinghouse on Counseling and Personnel Services supports, "The emerging role of community college counseling is actually an expansion of traditional roles: Community college counselors are becoming learning agents, student developers, and resource managers."
Traditionally, community college counselors focused on "providing personal counseling, vocational guidance, and social support for the traditional community college student." However, as student enrollment grew, and the student populations become more academically, socially, and financially diverse, counselors have shifted their focus: "To meet the needs of these new students, community colleges are reinstating testing and placement, dismissal and probation policies, general education requirements, and select admissions programs."
Community Counselors and Systems of Support
Learning Aids
As Pulliams further explains, "The emerging role of counseling involves helping students to complete their academic objectives […] Counselors must perform the roles of student developers and learning agents." Adding to this, "counselors must communicate to students the importance of skill-building and other academic requirements and help them understand the value of their academic endeavors."
Counselors, as learning aids, can help serve students of the community college as academic supporters; counselors have access to all of the school's resources and tools to help students find specific and interpersonal support and assistance. For example, if a student is struggling with specific math concepts, a counselor can guide the student towards a
center for tutoring
or can help a student schedule an appointment with a
professor or TA
for one on one help. Adding to this, counselors can help assist students with specific special needs; for example, counselors can find resources for
English language learners
, students
struggling with writing
, students navigating different courses of study, and so forth.
Pulliams continues his explanation of counselor support in asserting, "As a learning agent, the counselor is required to assist, manage, and encourage students to build a pattern of success. To be effective in this role, the counselor should be a central part of the primary intake and processing services such as registration, advising, orientation, test interpretation, and career planning."
In fact, the role of a counselor is so significant that studies show that "students receiving pre-registration counseling had more satisfaction with their initial program of study and withdrew at a lower rate than non-counseled groups." Adding to this, students who had not received pre-registration counseling exhibited higher rates of program changes, withdrawal, and lower student return rates from one quarter to the next.
This video explains why you should seek academic support.
Personal Support and Guidance
In addition to serving students as learning aids and academic guides, counselors are also able to help students on a personal level, by providing students with resources for both private and professional assistance. As
Lane Community College
, located in Eugene, Oregon, describes: "The goal of the Counseling Department is to provide retention and support services which allow you to profit from your
Lane Community College
experience." LCC's staff consists of
counselors, academic advisors, support staff
, and
peer assistants
who all collaborate to provide students with a variety of services.
According to
Lane Community College
, the counseling staff can assist students with: "Returning to school and adjusting to changes; Making career and educational decisions; Developing academic plans for accomplishing your goals; Improving interpersonal; Communication skills; Coping with stress and depression; Resolving personal and family problems; (and) Strengthening student success."
As LCC, along with many community colleges across the country, strives to serve all students' diverse needs, the role of a counselor is designed to help support students' overall academic experience. Furthermore, as Pulliams explains, "Counselors will also have to possess empathy, the ability to understand what students are experiencing. A special perception of students will be needed by counselors: the ability to think in terms of the individual students and how their individual strengths and needs can be accommodated and tied into the challenges of the institution."
This video emphasizes the importance of having an academic counselor.
Finding Counseling Services in Community College
As new students enroll in community college, they should strive to schedule a one on one meeting with their designated counselor prior to registering for classes. As Pulliam reveals, "Counselor services should meet the needs of those entering students by providing each student with complete information and preparation for entry into appropriate courses."
By guiding students toward appropriate courses, counselors can provide the support that may include assessments of abilities based on standardized placement tests, an explanation of courses and paths of study, in addition to a general introduction to the school to inform students of the community college resources and expectations.
References:
Pulliams, Preston. "The Emerging Role of the Community College Counselor." ERIC
Questions? Contact us on Facebook @communitycollegereview.
Your local community college campus offers a variety of art programs both traditional and modern. Find out more about them here.
With serious mental health issues on the rise on college campuses nationwide, community colleges are scrambling to provide expanded mental health services to students.
From nuclear medicine to physical therapy, consider 10 in-demand jobs for community college graduates. With salaries ranging from $50,000 to even $100,000, opportunities are ripe for those with the right training from community colleges.