How to Take Control of Your Community College Education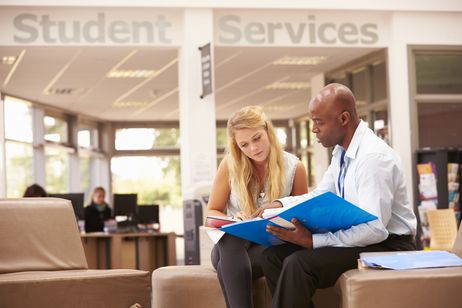 Shape the rest of your life with the opportunities you take in community college. Take control of your community college education.
Each year, millions of students graduate from high school and move on to higher education. While 4-year colleges and universities may be the more traditional option, community college works for many students. If you are thinking about enrolling in community college, take the time to learn about this option from every angle.
In this article, you will learn about the pros and cons of community college to help you make your choice. If you do decide that community college is right for you, you'll also receive tips for taking control of your community college education so you can graduate with the best chance for success upon entering the "real world".
Is Community College Right for You?
If you think that community college could be the right choice for you, you would be wise to learn about the pros and cons of making this choice. Community college is an excellent alternative to four-year colleges and universities, but it isn't the right decision for everyone. Here is a list of advantages that may be associated with community college:
Many community colleges offer smaller class sizes which could mean more personalized attention and instruction from your teachers.
Community college is generally much less expensive than traditional 4-year schools, especially if you continue to live at home.
Many community colleges offer online classes and night classes, making it a more practical option for people who are working full-time or who have a family.
You may be able to complete your core classes at a fraction of the cost and then transfer to a college or university to get your degree.
You are more likely to get to know your professors and you may get more personalized attention from your academic advisor.
This video discusses the pros and cons of attending community college.
As you can see, there are many wonderful advantages to attending community college. However, you need to be practical and think about potential disadvantages as well. Here are a few to think about:
Some community colleges do not offer the same variety of majors or course options as larger four-year schools do.
Many community colleges do not offer housing which means that could be missing out on the quintessential college experience of living on campus.
Community colleges may not offer as many social activities and events as traditional schools, especially those that do not offer campus housing.
Credits for core classes will not always transfer. Check with the school of your choice ahead of time before you take the classes.
Now that you understand the pros and cons of community college a little more, you may be ready to say that it is the right choice for you. If so, keep reading to learn some simple ways to take control of your community college education.
Picking a Major and Choosing Classes
If you want to take control of your community college education so that you can graduate with the best chance for success, you need to think carefully about the major you choose and be smart about scheduling your classes. Many incoming students choose a major based on what will make them the most money. There is nothing wrong with this, but you do need to factor in your personal interests and your career aptitude. If you make a lot of money but are stuck in a job you hate, your life will not be fulfilling. One of the best things you can do is talk to your academic advisor. Your advisor is there to help you determine the right path to take toward your career goals. He will help you to decide which classes to take and which major might be a good fit.
This video offers a student's take on the pros and cons of attending community college.
Speaking of classes, another important factor in determining your success upon graduation is scheduling your classes efficiently. While community college is less expensive than most 4-year schools, you are still paying for tuition so you should get the most for your money while you can. This means taking classes that could that complement your major or that will benefit you in some other way. There is no harm in taking electives, but you do need to make sure that you schedule your classes each semester in a way that makes it possible for you to graduate on time. Don't forget about your general education requirements! If you don't pay attention you could miss a class and that might prevent you from graduating.
Taking Advantage of Career Services
No matter where you choose to go to school, you should take advantage of every opportunity you are given. Most schools offer career services, for example, which can help you to make sure that your college education is on the right track for the career of your choice. Career services may also be able to help you line up an internship during school or a first job after you graduate. Here are some tips for getting the most out of your school's career services:
Find out what resources your school offers – you can find this information on the school's website or you can ask around at the library or in your school's admissions office.
Attend as many career fairs as you can. Even if you are not ready to apply for a job, attending a career fair will help you to learn what kind of options are out there and what potential employers are looking for in a recent graduate.
Utilize career services to write and improve your resume – you can also take advantage of services to help you learn how to write a cover letter.
Take advantage of career services that offer mock interviews. It doesn't matter what kind of job you are applying for – if you know how to succeed in an interview you'll have a better shot at getting hired.
Apply for on-campus jobs while you are in school to gain some work experience – you never know who might become a valuable connection when you start looking for a real job.
In the end, you are the one who is in control of your community college experience. The choices you make while you are in school will have an impact on your future, so don't squander the opportunities that arise while you are in school and take every chance you get to prepare yourself for the future.
After you graduate from community college you will set foot in the "real world". Taking control of your community college education is the best way to make sure that you are fully prepared when it comes time to take that step. While you are in school you should take advantage of every opportunity you are given, even if it seems insignificant at the time. At the end of it all, your life is a sum of your experiences, and the more experiences you have, the fuller your life will be. So, take charge and take control of your education. It is well worth it!
Questions? Contact us on Facebook. @communitycollegereview
What states are home to the most diverse and least diverse community colleges? In our exclusive diversity report, we analyze our data to determine how much diversity there is on community college campuses throughout the United States. In addition, learn about the benefits of attending a community college with a diverse student body.
As the third wave of TAACCCT grants are issued, we take a look at how community colleges are using this federal money to beef up job training programs across the country.
We take a closer look at the Upward Bound program, which is designed to prepare students for college whom might not otherwise succeed due to economic or family factors.