Dressed for Future Success? Community College Dress Codes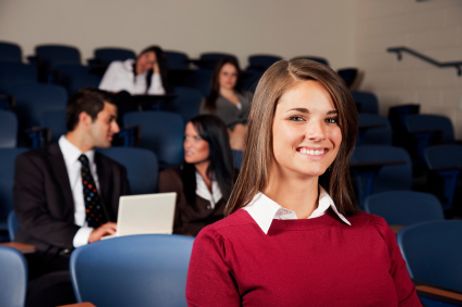 Should students be free to fully express themselves through their wardrobe? Some community colleges think that dress codes are in order, ranging from uniforms to even business-appropriate attire.
Why Enforce Dress Codes?
The Clearinghouse on Educational Policy and Management from the University of Oregon states that the implementation of dress codes or school uniforms has been linked to a variety of benefits, including:
Safer schools overall
Enhanced learning environment
Higher student self esteem
Less pressure on parents
A strict dress code has been found to minimize violence in schools, particularly when it comes to gang-style clothing. In addition, by eliminating expensive trendy clothing, the number of students robbed of shoes, hats, and jackets can be reduced. Of course, when students feel safer on their school campus, learning is also enhanced.
Community College Dress Codes
We have a few samples of community colleges that are cracking down on the dress code for the sake of a more productive and profitable learning experience.
FTCC president Dr. Larry Keen told WTVD, "Our main job is to make sure that our students, when they come to us for educational training, that they are employable… and so, if we fail to correct them in terms of behaviors such as improper dress codes such as I just described, then we're not doing them a favor."
In North Carolina, community college students are also getting introduced to a new dress code this year. According to a report in the News & Record, Guilford Technical Community College (GTCC) recently approved a number of policies regarding student behavior, including a nonspecific dress code for students. The dress code requires students to dress "in a manner in keeping with the serious academic intent of the college and in a manner acceptable to the community." The new dress code will be reviewed with the students in classrooms, and it allows faculty to address students wearing inappropriate clothing.
North Carolina Central University
This college has eliminated a variety of potentially offensive forms of dress, including mini-skirts, midriff tops and short-shorts, according to a report on Higher Ed Morning. In addition, the school has made hats, pajamas and do-rags outlawed attire. The college believes that appropriate dress leads to more appropriate, respectful behavior by students. One of the business professors at the school tells her students to wear suits in conservative colors and styles to help prepare students for the business world that lies ahead.
Knox Community College
For American college students complaining about dress codes on their campuses, consider Knox Community College in Jamaica. According to the college website, this institution requires students to wear uniforms that consist of white shirts, ties and slacks or skirts. No jewelry (other than one pair of earrings for female students), hair adornments or makeup is allowed. The purpose of school uniforms at Knox was to create a level playing field for a student body that comes from all socio-economic groups. The dress code was approved by school administrators and voted on by college students.
Dress codes have evolved considerably throughout the generations, ranging from strict uniforms to looser codes that allowed almost any form of dress to slip through the cracks. Today, dress codes in schools are getting a fresh look, all the way through the years of higher education. With a dress code in place, students may enjoy a level playing field and less peer pressure, which may help them focus more effectively on their studies and preparing for work after graduation.
After 80 years and a powerful program, Grand Rapids Community College cites scheduling conflicts and compliance challenges in bringing its football tradition to an end.
A $1.25 million donation to Cape Cod Community College will greatly expand the dental hygiene program for the school. This is particularly important since it is not only the only dental hygiene program within a 50-mile radius; it is also serving the needs of the low-income and uninsured members of the community.
An investigation revealed major construction errors, immediate demolition of newly renovated buildings, and millions lost in administrative blunders in the Los Angeles Community College District. Learn about how billions lost due to poor planning and terrible mistakes in Los Angeles.