Housing is Down, but California Community College Construction Projects Still Strong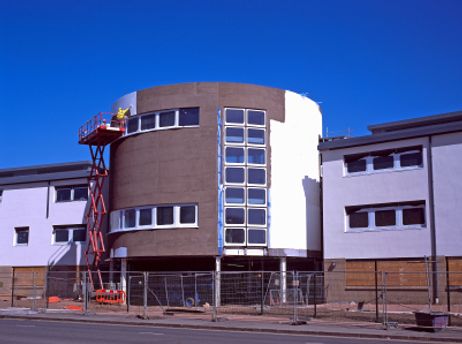 Although California's real estate may be soft, the state's community college constructions projects are booming. Learn about where the $1.6 billion is going and how community colleges are improving their facilities.
New construction may be at a standstill for the housing market throughout the West Coast, but that slowdown hasn't impacted construction enhancements at many community colleges around the state of California. From new student centers to
"green" classrooms
, the projects at institutions of higher education right now are making up a large percentage of the total construction occuring around the state. And since colleges had already earmarked portions of their budget for the enhancements, many schools are finding they are actually saving money, thanks to the lower cost of supplies and property over the past few years. We'll take a look at how some
California community colleges
are gearing up for bigger, better campuses in the not-so-distant future.
50 Projects, $1.6 Billion
According to a recent report at
Sign on San Diego
, more than 50 construction projects are currently underway at community colleges and universities across the state of California. The total projected cost for the combined effort is around $1.6 billion, a huge boon to a slumping construction industry where only a few housing projects are still up and running. In addition to the current projects, there are many more waiting to begin, ensuring the construction industry for the state will continue to find work and revenue for some years to come.
Boone Hellmann, University of California, San Diego vice chancellor for facilities, design and construction, told Sign on San Diego, "I think it's extraordinarily fortunate to have an influx of work in both the community college and university sector. I've had contractors over the past two years tell me we've been a stalwart in the community in keeping local business operations in existence."
According to some calculations, the construction at college campuses could make up as much as 10 percent of the total construction projects across the county. The best part is that most of the money going into these projects is coming from donations,
grants
and student fees, rather than from the state budget. In some cases, the money has been earmarked for the special project for some time, and the lower construction costs due to the slowing economy has actually resulted in big savings for some of the schools.
David Umstot, vice chancellor for facilities management at the
San Diego Community College
District, told Sign on San Diego that two bonds, approved by voters in 2002 and 2006, are providing the current $1.6 billion needed for the 20-year program. Umstot added, "If you look at what our estimates were three years ago versus what the pricing came in at when bidding out for a project, we're saving 20 percent below estimates." The savings is being used for further upgrades and long range maintenance projects that will save the schools even more in the long run.
New Student Services Building Coming to San Diego Mesa College
Looking more like a state-of-the-art office complex than an addition to a college campus, the design for the new student services building at San Diego Mesa College features four open levels that all circle around a light and airy atrium. The atrium will become a gathering place for students, a place where they can meet with various department heads to conduct school business. According to the
college website
, the building will also meet LEED Silver Certification, with an estimated savings of 340,000 kWh annually – 38 percent better than state requirements.
Construction is now underway for a new planetarium on the
Palomar College
campus. The new planetarium is scheduled for opening by spring of next year and will be located between the Natural Science building and the library. The new educational facility will feature 146-seat capacity and a full-dome projection system. The
Palomar College website
is offering a blog to keep students and interested community members abreast of the progress on the construction project, as well as additional information about what the new planetarium will offer the community.
Student Center Offers Mall Feel at Grossmont College
A new student center under construction at Grossmont College will feature more of a mall experience than the standard student gathering place. From the multi-level parking lot to the promenade and caf seating on your way through the front doors, this new building promises to be an attractive location for students to gather information, eat and socialize. According to the Grossmont College Campus Scene, the new center will be an eclectic mix of student services and classrooms, along with plenty of options in dining and ample room to relax and socialize. The center is scheduled to open by December, 2011.
Dale Switzer, Grossmont College Senior Director of Facilities Planning, told the Campus Scene, "A new student center has been in the planning for well over 10 years. The design that has resulted from many iterations will surely serve the students as a home away from home. Although we have built an enormous number of teaching facilities on this campus, the heart of every college is the Student Center. It is a place where students can meet and enjoy each other outside of the confines of the classroom."
Construction may be slow in other parts of the state, but community colleges across university are continuing to pump money into the local economy while enhancing the college experience for their students. From new educational opportunities to fun, upscale environments where students are encouraged to get to know one another, the future of
community colleges in California
remains bright.
What states are home to the most diverse and least diverse community colleges? In our exclusive diversity report, we analyze our data to determine how much diversity there is on community college campuses throughout the United States. In addition, learn about the benefits of attending a community college with a diverse student body.
As the third wave of TAACCCT grants are issued, we take a look at how community colleges are using this federal money to beef up job training programs across the country.
We take a closer look at the Upward Bound program, which is designed to prepare students for college whom might not otherwise succeed due to economic or family factors.