Hands across California: Community College Students Ban Together to Save the System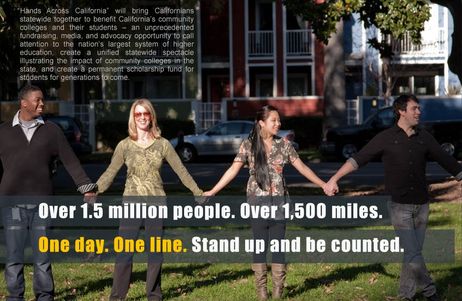 Facing a monumental budget crisis, California's community college students took matters into their own hands, holding rallies and conferences for Hands Across California.
What is Hands across California?
Hands across California is the latest organized effort by Ken Kragen, known for his work with Hands across America, NetAid and We are the World fundraisers. Kragen entered the picture to help community college advocates raise awareness of the financial needs of students across the state. According to the Huffington Post, this movement, which took place on April 17, served two purposes: to raise awareness of the critical needs of today's college students and to raise funding that will support those needy students through additional scholarships.
Money that was raised through Hands across California will go directly to support the California Community Colleges Scholarship Endowment. The Bernard Osher Foundation has pledged a 50 percent match to all funds collected. This organization is well known for its support of the California community college system.

The event planned for 1.5 million participants, stretching their hands to form a human chain that reaches around community college campuses throughout the state. Money can also be donated to the event, to help increase the scholarship fund, until June 30.
Jennifer Smith-Hollett, an employee at the Bernard Osher Foundation, told the
Walnut Patch
that scholarship money collected through the movement will go to the neediest college students first. Hollett said, "It's a chance to bring awareness to the students. It's kind of a demonstration showing that we need to raise this money, not just for this generation, but for future generations."
Students Banding Together
Craig Hernandez, a community college student in California, sees the importance of supporting his own student body. Hernandez told the Patch, "With the budget cuts, it's getting harder for students to get the classes they need. In the fall, they are going to raise fees to $36 [per unit] and are thinking about raising it even more. I haven't had to struggle that much so far, but it is a burden on folks."
Imani Floyd, another community college student and marketing major was looking forward to the event. Floyd told
The Telescope
, "It will definitely get attention, I'd be down." In addition to the numerous students participating in the event, Hands across California has also garnered attention from many celebrities, including MC Hammer, Quincy Jones and Arsenio Hall.
Jeffrey Fang, a student at City College helped organize the event on his campus. He told Mercury News, "A lot of students at City College like me are struggling, doing part-time jobs. We come here because the quality of education is high and the fact that it's really cheap." About 130 students participated in the event at City College this month.
High Participation and Spirits
Mercury News reported that tens of thousands participants across California joined hands on 53 college campuses for the Hands across California event. Some wore shirts sporting slogans like, "No Cutbacks." In addition to the human chain that took place at 2 p.m. on April 17 around campus buildings, many campuses also held rallies, performances and fairs to promote awareness of the needs of college students and work together toward some viable solutions.
In San Jose, students gathered to exchange ideas and swap strategies that would help struggling college students meet the rising expense of higher education. Some of the ideas that came across the board were book swaps that would help students who couldn't afford the
cost of textbooks
and peer counseling that utilizes students to help others entering community college adjust to the transition. The students that attended the event were hand-picked by organizers and all attended Northern California community colleges.
Osvoldo Cordero, a
De Anza College
student, told
Mercury News
, "It was empowering. Knowledge is power – and through hearing each other's experiences, their knowledge became my knowledge." The event included a formal dinner, where California Community Colleges Chancellor Jack Scott spoke to the crowd. Students were also able to exchange contact information so they could keep in touch with one another after the event.
About California Community College Students
The average community college student in California earns an annual income of just over $16,000, with one-fourth earning less than $5,544 per year. Most of these students can barely pay the rent, let alone their tuition, according to the report in the
Huffington Post
. In addition, Mercury News reports that many of the students attending community college in California are foster children or
undocumented students
who were brought to the United States by their parents when they were very young. For some of these students, finding any sort of employment to pay for a college education is nearly impossible.
Donations for Hands across California will be accepted through June 30. Those interested in contributing to the cause can donate online or by texting on their mobile phones.
Against massive budget cuts, community colleges have been forced to take drastic measures, including cutting entire programs ranging from the culinary arts to athletics.
Many students enroll in community college with the intent of transferring to a four-year school. Of those who do, many succeed, and yet traditional colleges and universities continue to overlook them. Read on to learn more about why more community college students don't transfer schools and to receive some tips for making the transfer yourself.
Community college is the only option for many students who either can't afford a traditional four-year university or who need a more flexible school environment. Just because community college is different, however, doesn't mean that its students matter any less. The Aspen Prize exists to encourage community colleges to do more for their students and to continually strive for improvement.