What?s Wrong with Community College Placement Policies?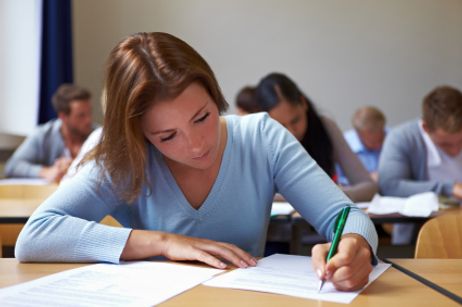 We take an in-depth look at recent studies that show placement examinations may not be the best way to place incoming community college students into the proper courses. What could be the alternative?
Community colleges across the country typically have open enrollment policies that allow students admission to the schools regardless of their academic performance in high school. In fact, many two-year schools don't collect high school transcripts or standardized test scores before allowing students to enroll in classes. However, most of these schools do rely on standardized placement examinations to ensure students lacking skills to succeed in college get the help they need in
remedial classes
before moving on to college-level courses.
In theory, this system sounds like a good one. Students are assessed before they are placed in community college classes to ensure they possess all the skills necessary to achieve in higher education courses. Unfortunately the theory doesn't always translate to an effective education process. In fact, recent studies have shown
community college placement examinations
may do more harm than good.
The Problem with Placement Exams
Last year,
Inside Higher Ed
reported on a study by the Community College Research Center at Columbia University's Teachers College. The study found that up to two-thirds of the students placed in remedial classes after taking placement exams could have passed college-level courses with a grade of "B" or better without the remedial assistance. This study was significant, since remedial coursework has a detrimental impact on college completion rates at community colleges across the country.
At the time of the study, around six out of every 10 community college students were assigned
remedial coursework
before they could take college-level classes. Although students have to pay for remedial classes, those courses rarely apply toward a degree program, extending the time and expense of a community college education. Around one-fourth of those students assigned to remedial classes will ever complete their higher education and earn the degree they wanted.
According to the report by the
Community College Research Center
, most community colleges across the country rely on either the COMPASS or the ACCUPLACER to determine college readiness. Some schools, such as community colleges in California, also use their own examinations to place students in the appropriate classes. However, this research from 2012, and new research from 2013 suggest that these examinations are not the most effective determinant of a student's potential to succeed at college-level coursework.
New Study Suggests Alternative
A new study, also reported by
Inside Higher Ed
, suggests an alternative to placement examinations that might be a more accurate predictor of student success. The report, released by Arizona State University's Education Policy Analysis Archives, suggests that statewide standardized tests taken during high school might be a better predictor of college readiness than the placement examinations currently offered.
The
study
was reported by Michal Kurlaender, an associate professor at the University of California's Davis School of Education, and Matthew F. Larsen, a postdoctoral teaching fellow from Tulane University. The researchers looked at five cohorts of juniors in California high schools, tracking them into their freshman year at
community colleges
within the state. In addition to studying predictors of college readiness, researchers also examined disparities in freshman course taking according to racial and ethnic differences.
Researchers chose California students due in part to their size. California boasts the largest population of higher education students today, with 2.4 million enrolled in community colleges throughout the state. Students also come from a wide range of socioeconomic and ethnic backgrounds, allowing for greater diversity within the study.
The study measured student success during the first year of community college through four factors:
Number of courses taken that would transfer to California's State University system
GPA in these courses
Number of remedial or basic skills courses taken
GPA in these courses
The study found that students that performed better on high school achievement tests also performed well academically their first year of community college. Success in this case was defined as more students taking transferrable classes rather than remedial courses. The high school test scores did not appear to be an accurate predictor of GPA in either type of class.
Racial Differences Source of Concern
Results were consistent across racial lines as well, although researchers did make a troubling find in this area. Hispanic and African-American students took fewer
transferrable classes at community colleges
overall than their white and Asian counterparts. This was true even at higher levels of achievement, leading researchers to wonder what could be the cause of the disparity.
While no one can say definitively based on this single study, some believe the disparity could be due to the fact that more African-American and Hispanic students are the
first in their family
to attend college. These students may be at a disadvantage when it comes to navigating the complex scheduling issues at community college, which could result in them taking more remedial courses. In addition, placement examinations used may be culturally biased against
minorities
, resulting in lower scores that lead to more remedial education. Differences in education quality among community colleges in the state could also contribute to those numbers.
Currently, most community colleges in California or across the nation do not require high school transcripts or test scores to admit students into their schools. Most rely solely on placement examinations to ensure those who are not college ready get the preparation they need. In light of these recent studies, it may be time for community colleges to consider a broader base of student records when determining which classes students should take when they arrive at community college. In addition, better collaboration between high schools and colleges could ensure more students are prepared for the rigors of higher education without the need for so much remedial education.
Learn about the free and reduced-fee tuition offered at many community colleges, who are hoping to help unemployed individuals advance their job skills to re-enter into the workforce.
Living with roommates is part of an authentic college experience, but is it an option for community college students? Read on to learn about housing options in community college and to learn how to survive the year with roommates.
Some people seem to graduate high school but never really leave the academic world behind. No matter what career you pursue, there are plenty of opportunities for higher education, but are they worth it. Read on to learn about graduate degrees in nursing and whether they are worth the time, cost, and effort.