Casino Training Coming to Massachusetts Community Colleges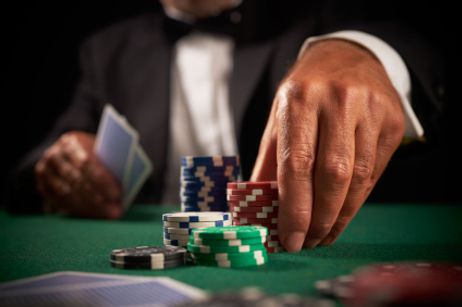 In preparation for the newly approved industry on its way to Massachusetts, community colleges across the state are partnering with the gambling industry to provide casino training.
In a proactive approach to employee Massachusetts residents, community colleges are partnering with a number of entities to bring
casino training
to their campuses. The new addition will be in preparation for the construction of at least one casino in the western region of the state. Training will be offered in all aspects of casino operations, from entry-level jobs all the way to management positions.
Collaboration Involves Multiple Partners
The new training collaboration brings a number of entities in the state together, including the Massachusetts Casino Careers Training Institute (a consortium of 15 community colleges and some four-year schools in the state), Penn National Gaming, MGM Resorts International, Western Massachusetts Development Associates, and Mohegan Sun. MGM, Penn, and Mohegan Sun are all vying to put a casino into the state. According to state law, as many as three new casinos could be built in the state, although specific plans and locations are still pending.
Despite the uncertain plans for the casino additions, plans to train up workers for the industry are already being put into place.
Mass Live
reports that the college consortium and casino developers have signed worker training agreements with four prospective casino developers, and also have a signed agreement with the Massachusetts Gaming Commission. It is this latter organization that will be responsible for choosing the Western Massachusetts casino.
The two schools leading up the consortium are
Holyoke Community College
and
Springfield Technical Community College
, which are both located near the area where a western casino may be built. According to the MetroWest Daily News, these two schools have plans in place to begin to train casino workers within the next few years. Two developers have already submitted formal development applications in this area, and more may follow prior to the deadline set by the city of Springfield.
This video describes the partnership among MGM, Holyoke Community College and Springfield Technical Community College.
"If those doors open and our people are not ready, they are not going to get these jobs," Ira Rubenzahl, president of Springfield Technical Community College told Mass Live. "We know that in Western Massachusetts, our level of education attainment is lacking compared with the rest of the state."
"We're very excited," Bill Messner, president of Holyoke Community College and chairman of the Training Institute, told MetroWest Daily News. "It's terrific that all four casino operators are here, and they've said they're willing to work with us. Because that's what it's going to take, all of us working together."
The Task of Training
Both Holyoke and Springfield Technical, along with other community colleges and four-year schools in the state, will be responsible for training around 3,000 new workers that are estimated to be required to run the new casino in Western Massachusetts. A total of 10,000 workers may be needed when and if all three casinos get up and running. While no opening date has been set for any of the casinos at this time, community college representatives say now is the time to begin training, to ensure qualified workers are ready for employment when the casinos do finally begin their operations. ABC 40 suggested the training programs could be up and running within the next six months, while Mass Live reports the programs could get off the ground in 2015. Even the later date is predicted to occur at least one year prior to the opening of the first casino in the state.
This video describes the dealer training school at Northampton Community College.
The participating colleges have purchased gaming curriculum from
Atlantic Cape Community College
, near Atlantic City in New Jersey. They plan to train employees on a wide range of levels, from dealing cards to providing security for the casinos. Training will also be provided for the administrative side of casino operations, as well as food service and
hospitality management
. Other fields of study might include
criminal justice
,
security
, and maintenance. Before the colleges can begin their training programs, they must learn the requirements that will be imposed by the Gaming Commission, the same group that will be choosing the casino for Western Massachusetts.
Until the training programs are set up, those interested in casino careers in Massachusetts are urged to
earn their GED
, if they don't already have a high school diploma. In addition,
English as a second language
training could be taken if an individual continues to struggle with learning English. Finally, interested parties are encouraged to check their credit histories, since a poor credit rating can stand in the way of casino employment.
Deadline Passed, Plans are In
As community colleges get ready to launch casino training programs across the state, corporations interested in bringing casinos to Massachusetts continue to progress with their plans as well.
Mass Live
reports that both MGM Resorts and Penn National Gaming submitted their full paperwork to the city of Springfield prior to the deadline on January 15. Boxes of formal casino proposals were delivered to Springfield's city hall by the set date. The proposals will now be considered by the mayor of Springfield, Domenic J. Sarno, and two review boards.
MCCTI Director Michele Cabral discusses casino training classes and where they lead.
Mohegan Sun has also submitted a proposal for Palmer, which is currently pending as well. With many possible casinos vying for the chance to open in Massachusetts in the not so distant future, now is the time for interested workers to prepare for the training they will need to land jobs in the industry. Community colleges are getting ready to ramp up casino training programs that will give students the edge they need to land some of the hottest jobs that are expected to arrive in Massachusetts over the next few years.
Questions? Contact us on Facebook. @communitycollegereview
What states are home to the most diverse and least diverse community colleges? In our exclusive diversity report, we analyze our data to determine how much diversity there is on community college campuses throughout the United States. In addition, learn about the benefits of attending a community college with a diverse student body.
As the third wave of TAACCCT grants are issued, we take a look at how community colleges are using this federal money to beef up job training programs across the country.
We take a closer look at the Upward Bound program, which is designed to prepare students for college whom might not otherwise succeed due to economic or family factors.