Manufacturing Careers
– From welding technology to automobile manufacturing community colleges are training students for lucrative manufacturing careers. Get the scoop on middle skills, labor shortages and the best degrees for manufacturing careers.
View the most popular articles in Manufacturing Careers: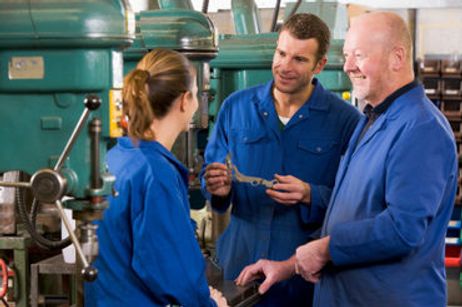 Whether you have technical or creative skills, a career in welding technology can be rewarding and lucrative. Learn how you can start a welding career right at your local community college.
Welding continues to provide steady
career opportunities
, which range from creative endeavors to logistical practices. For many community colleges, studying welding can open lucrative doors for lifelong employment. According to
Syndicate Pay Scale Data
, professional welders begin their careers with an average starting salary ranging from $54,000 to $71,000 per year! Best of all, the annual pay increases exponentially with years of experience, which means technical welders with 20 or more years of experience can earn an average of $100,000 annually.

Welding commonly involves using heat and technology to join various metal parts; building on this core focus, some aspects of a welding career can include the use of equipment to create welds and the inspection of welds to ensure specifications and standards are met. Additional tasks may involve reading blueprints, drawings, or other forms of visual or written instruction.
Through diverse training and degree options at community colleges across the country, students can begin to prepare for their career through an
Associates
of Applied Science of Welding degree or a Welding Technology Certification.
The Employment Prospects for Technical Welders
Professional welders most commonly work in the manufacturing industries. Often hired to create industrial machinery, transportation vehicles, and other forms of fabricated products and pieces of equipment, trained and licensed welders can take advantage of a wide variety of employment venues.
In fact, adding to the manufacturing options, many welders also work in construction-related areas, joining pipes, building or maintaining refineries, as well as supporting the construction of bridges and other
College is expensive. There is no way around it. But you can save money by attending community college as long as you avoid these top six financial aid mistakes.
Are you taking full advantage of scholarships? Use these 7 smart tips when applying for your scholarships, whether need or merit-based awards, as well as those for individuals from certain ethnic, religious, or socioeconomic groups. Increase your chances of being awarded scholarships!
The coronavirus pandemic has changed the 2019-20 school year for over 14 million college students. Read on to learn the impact of COVID-19 on current students and how colleges around the country are reacting.