Spark a Glass Blowing Career through Community College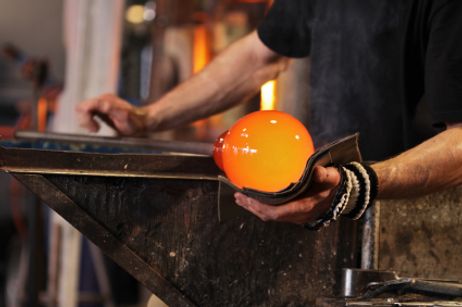 If mixing your creativity with beautiful glass sounds inspiring, consider starting your hobby or career in glass blowing at community college.
Are you looking for a whole new field of study at community college? Why not give glass blowing a try? This popular hobby is now being offered in courses at community colleges across the country. Whether you are looking for a profession as a glass blowing artisan or simply want to add another piping hot hobby to your repertoire, glass blowing might be the opportunity to let your inner artist shine. This article will explore the history and craft of glass blowing and provide a few samples of colleges that are offering formal training in this skill.
What is Glass Blowing?
According to Wise Geek, the history of glass blowing dates back to approximately 200 BCE. During those very early years, glass blowing was primarily used to create vessels to hold liquids. Through its long evolution, glass blowing has become an art form used for creating beautiful pieces that lovers of the craft can proudly display in their homes and office buildings.
The process of glass blowing requires very hot conditions, created by heating ash and limestone in a fiery furnace. The glass is heated to a molten state, where it can be molded and shaped into everything from large vessels to tiny detailed forms. The shaping takes place through a blowpipe that the artist blows into to form a bubble within the molten glass. Details can be added to the glass during the blowing process, using tweezers to pull and shape the glass into various forms.
Glass blowing is a precise art that requires special tools and training in order to do it right. Because of the very hot conditions used to form the glass, it is important to get the right training for this craft before attempting it on your own. This is where training at a local community college can come in handy for those interested in the art of glass blowing.
Kirkwood Community College
Glass blowing courses are offered at
Kirkwood Community College
in Iowa as a part of their art department, according to the college website. This school has a full glass shop – one of the only ones at a community college in the country – which features a beginning and an advanced glass blowing class. Both of these courses teach the finer points of hot glass blowing, fusing, slumping and kiln casting, with the first course offering rudimentary skills and the second course allowing students to take their glass blowing knowledge to the next level. The first glass blowing course does have a number of prerequisites in the art department before it can be taken, so peruse the course catalogue carefully to find out what you must do to prepare for this fascinating class.
Salem Community College
Salem Community College
actually offers a
degree program
in glass art, of which hot glass blowing is just one component. Students who enter this program will also learn mold-making, glass casting, lamp working and cold construction techniques. In addition to courses in glass making, students in the program will also have classes in drawing, two and three-dimensional design and art history to help them make the most of their chosen craft. According to the school's website, the
associate degree
in fine art from Salem will prepare students for a bachelor of fine art degree in glass art or a job in the glass industry.
Salem Community College has received plenty of interest in their glass art program. According to an article at
NJ.com
, a recent glass conference offered by the school brought in more than 300 interested visitors. The conference offered slide shows, demonstrations and networking with professional glass artists. SCC glass students were allowed to indulge in lessons with world-renowned glass artists, broadening their training and their glass working experience.
Artist Amber Cowen was one of the speakers at the conference, who detailed her journey from self-taught methods of glass blowing to the pursuit of a Master of Fine Arts from Temple University's Tyler School of Art in Philadelphia. Cowen told NJ.com, "Sometimes students have a hard time seeing into the future as far as the obstacles that keep artists from their creative goals. I never expected to go back to school for my MFA."
Virginia Community Colleges
Virginia's community colleges
also offer glass blowing classes for students who are interested in this craft. Through a series of four courses listed on the college website, students can learn the ins and outs of hot glass blowing, studio safety, equipment operation and cold molding techniques. Advanced students will delve into marketing, sales and studio operations for those who are interested in making glass blowing a career. Labs are included with all of the classes to give students hands-on training in their chosen field. While these classes are available at all Virginia community colleges, students should check with their individual school to learn whether there are prerequisites or other requirements.
In the true spirit of the community college
hands-on approach to education
, glass blowing is becoming a popular option for students at campuses across the country. Whether you are looking for a new career or simply a fun hobby to enjoy on the side, these courses can fit the bill for community college students of all kinds. For those who have a love of fine art and want a way to express their creativity through the delicate beauty of glass, coursework – or even an associate's degree in glass blowing or glass art - might be the perfect choice.
Complaints about the current system of accrediting community colleges, combined with the quickly changing scope of community college education and how it's delivered, may soon necessitate changes in the way that community college programs are accredited.
Community college enrollment is in decline, but some schools are refusing to roll over. Read on to learn the factors impacting enrollment rates and what some schools are doing to stay afloat.
In a time of change, the LGBTQ community is receiving more support than ever and the world is changing with each passing year. As a young adult member of the LGBTQ community, you have unique opportunities to take advantage of when preparing to enter college if you choose to. Keep reading to learn what you can expect to see during your college search and how best to prepare for your freshman year.